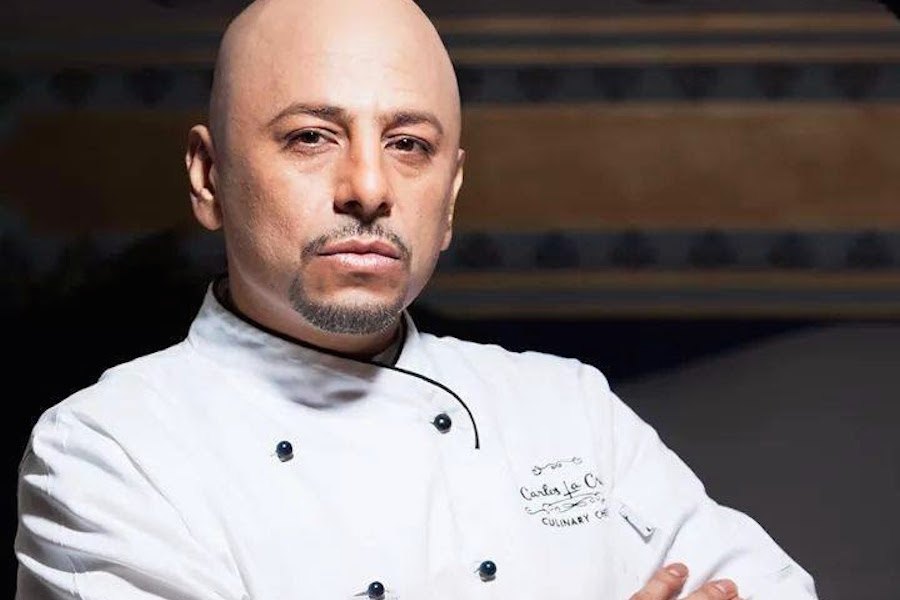 25 Oct

True International Fare with Chef Carlos La Cruz

Our friend and top chef, Carlos La Cruz, was born and raised in Caracas, Venezuela, but truly thrived and made a name for himself in New York City. The chef honed his career as manager in some pretty hip restaurants such as Rancho Cafe, Virgil BBQ in Times Square, Times Square Cafe, Gigino's at Wagner Park, and Dos Caminos Mexican Restaurant. He has also worked at 55 Wall at the Regent Hotel on Wall Street, Megu NYC in Tribeca, The Sports Club/LA, the glamorous club New York Duvet Restaurant and Nightclub, and at F&T Group's QC Celebrity Palace. De La Cruz then had his hand in creating seven – yes, seven– restaurants in the Queens Crossing Building: Mulan Modern Asian Cuisine, Mudan Banquet Hall, TMSK Lounge, Ah Rhee Soo Japanese and Korean Restaurant, Rose Tea House, Bally BBQ & Beer, and Paris Baguette Cafe.
RECOMMENDED: What's For Dinner? Keeping Up With The Unstoppable Chef Brian Massie
Back in his hometown, Caracas, Carlos served as Executive Chef for the Caracas Pop Festival, where he created daily menus for some incredible celebrities, such as Christina Aguilera, No Doubt, Alice Morrison, Pink Floyd, Paulina Rubio, Juan Luis Guerra, Ruben Blades and Guns N' Roses. He was also in charge of food production for over 250,000 people in the stadium. In the fall of 2010, the President of the Venezuelan Chef Association, Elia Nora Rodriguez (a former judge of the World Association of Chef Societies), honored De La Cruz with the Lifetime Achievement award…talk about local pride.
Venturing onto other exciting fields, he published Bitacora Gastronomica de Venezuela, a fun book featuring over 300 traditional Venezuelan recipes for the enjoyment of readers in America and abroad. He also published Bitacora del Vino in Europe.
FROM THE BLOG: An International Culinary Affair: Chef Makoto Okuwa and His Mission To Preserve Japanese Tradition
Back in the Big Apple, Carlos is proud to have established a sexy new trend in the restaurant industry, offering upscale dining on a bed at Duvet Restaurant and Lounge, following Sabina Belkin's concept. More recently, he took on the task of managing Piquant Restaurant in Brooklyn, where he reconnected Sabina and Lorraine Belkin (the daughters of the Russian magnate Eduard Belkin) in a new venture, Duo Restaurant and Lounge on Madison Avenue in New York City. He's also shared his cooking genius at venues such as Tio Luca Cocina and Vino, on Lenox Avenue in Manhattan, Tacos and Tequila Mexican Grill in the Atlanta Metro area in Georgia, just to name a few.
He proudly sponsored and served as Executive Chef for The Latin Fashion Week New York 2013, and wrote as chef columnist for Sofrito Magazine. In the mood for a cocktail? Carlos also has patrons covered. He's also the Executive Chef and Mixologist at "Dama Tequila", responsible for creating a high-end luxury cocktail collection.