20 Jan

Beyond Skin: Senén Llanos' Amazing Spectacle of Flesh and Color
CAPTIVATING, COLORFUL AND DYNAMIC, THE work of SENÉN LLANOS TRANSFORMS CELESTIAL BODIES INTO COLLAGES OF COLOR AND TEXTURE THAT INSPIRE, PROVOKE AND GENUINELY BLOW ONE'S MIND.
Emerging artist Senén Llanos is a self-taught photographer making a splash in New York City. The artist began experimenting with photography while studying computer science at the University of Puerto Rico. He easily picked it up as a hobby from his Cuban father, but Llanos truly grasped the power behind an image after the death of a close friend. This experience was the catalyst that turned this habitual snapper into a passionate photographer, driven to experiment for days on end to achieve the desired effect. The only son of three children, and adored by his sisters, he is drawn to female subjects. His interest lies in both the form and in projecting the subjects' personal energy through color and movement. His love of technology and background in computer science are evident in his work; he digitally manipulates his photographs to produce a painterly aesthetic. He's learned from, and been inspired by, the works of various contemporary photographers such as Joe McNally, Dave La Chappelle, and Bjorn Oldsen. However, it is in the work of Howard Schatz that one perceives as a direct influence. In 2011, Llanos was awarded the top prize in New York Dance Parade Photography Contest. He will be exhibiting his series Skin in late August 2013 at Michael Reslan Atelier. He currently lives and works in New York City.
RECOMMENDED: An International Culinary Affair: Chef Makoto Okuwa and His Mission To Preserve Japanese Tradition
Q: WHY PHOTOGRAPHY AND NOT OTHER MEDIUMS?
A: "Since I can remember I've been in love with photography. First, it was just exploring and trying to capture the moment. Later as I studied light it became more about me creating something. Having a camera lets me interpret light, motion and texture moments in a unique way. It's the medium I've practiced and I'm in love with it. In a way, I believe that people adopt whatever tools they have at their disposal. Since we've had paint available for thousands of years, we naturally flowed towards painting. It's only very recently in humanity's history that we've had digital tools available to us. As they progress I'm sure a lot more artists will gravitate to them."
Q: WHAT OR WHO INSPIRES YOU?
A: "I am inspired by everyday people that are driven to follow their dreams. Lately, I've found Instagram to be a huge source of inspiration."
Q: DO YOU CONSIDER YOURSELF MORE OF AN ARTIST OR A PHOTOGRAPHER?
A: "This is actually a really good question and it's a definition I struggle with myself. All my life I've been a photographer, working for other people and trying to make a living with it, but in these last years I've embraced the artistic side of me, dedicating as much time as possible to creating my own photography art pieces. It's been the most rewarding work of my life and has made everyday a new challenge. If I were to say, I'm all parts photographer and all parts artist."
Q: WHEN DID YOU FIRST DECIDE TO EXPERIMENT WITH SKIN AS A CANVAS?
A: "I started experimenting with water in early 2003. My then girlfriend would be my test subject as I spent hours playing with the camera, pouring water on her trying to create a look I had seen online. Later that year I started experimenting with led lights to create color, immediately gravitating towards contrasting colors like blue/red."
FROM THE BLOG: Inside the Studio of Truman Marquez
Q: HOW DO YOU CHOOSE YOUR COLORS FOR A SHOOT?
A: "Every color I use is very deliberate, many times chosen specifically for the model. I feed off their energy and try to bring a little something of it in the images. Sometimes my colors are a representation of the energy the model gives me… sorrowful blue, energetic green, Happy pink, confident yellow, etcetera."
Q: HOW WOULD YOU DEFINE BEAUTY?
A: "Beauty is a complicated subject. Physical beauty is only skin-deep yet we tend to give it more attention than we should. It's nice to look at, but unless there's substance behind the skin, it feels empty. Real beauty I feel has a lot to do with the energy a person gives off, their motivations and how they affect everyone around them. One of my models and close friends has a beautiful smile and she is a gorgeous woman, however, it is once you go through that layer that you realize the incredible person that is hiding beneath. She can have her world crumbling around her and will still take the time to motivate people. She refuses to take the easy way out and will work hard to help people. That is real beauty. That's someone I want to capture."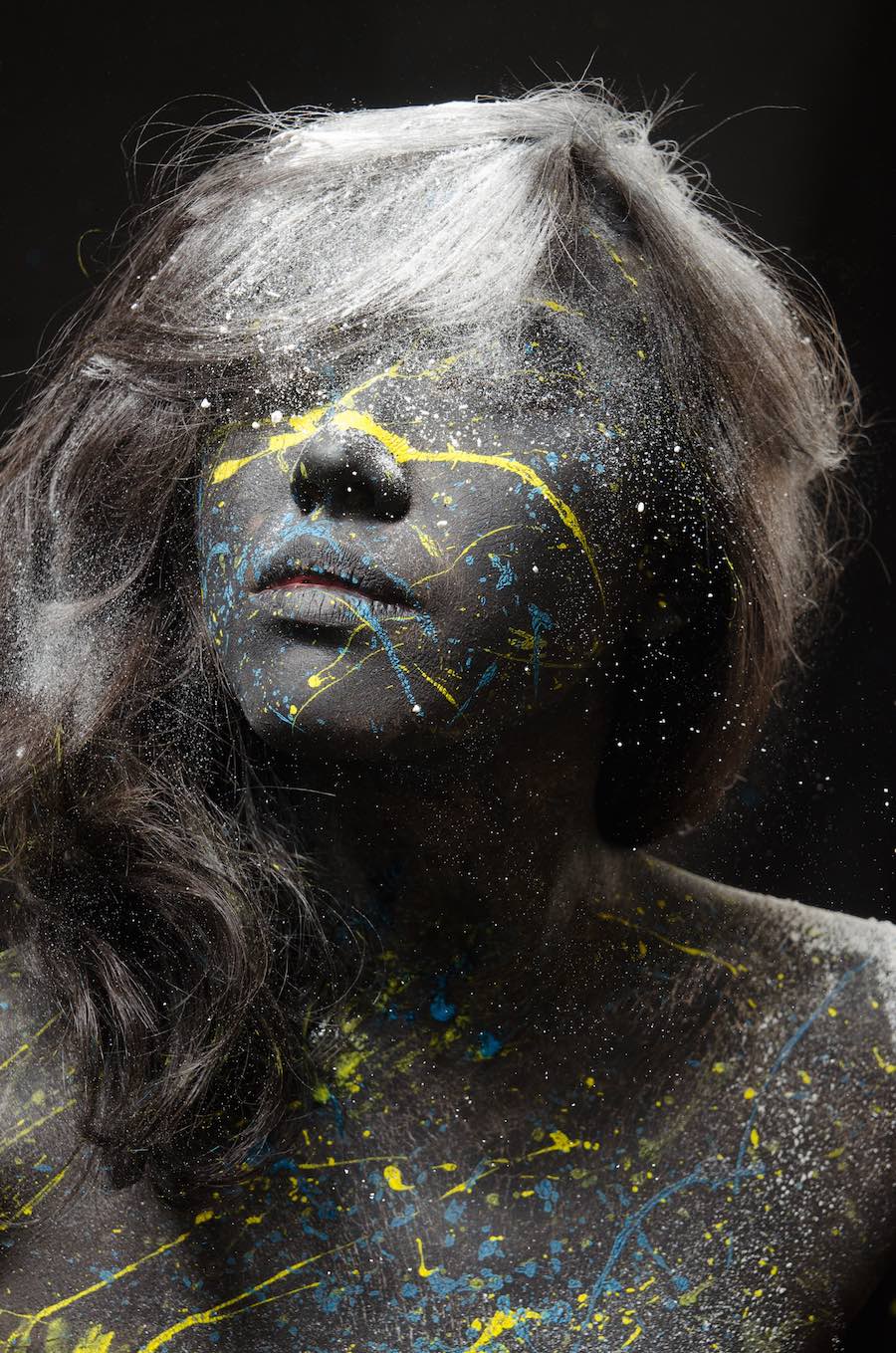 Q: HOW DID YOU END UP WORKING IN THE BIG APPLE?
A: "I actually never chose New York, the city chose me. Back in 2011, I was in a tough financial situation and was lucky enough to be offered a job in the city. It was extremely scary but I decided to roll the dice and risk it all for the pursuit of my passion. Two years later I'm now convinced this was the best decision of my life."
Q: WHAT ARE YOU CURRENTLY WORKING IN?
A: "Right now I'm working on a series called "The Pretty Martian Women". It's a work in progress that's evolving as I shoot. I'm also still working on my ever-evolving Skin series, exploring the relationship between paint, skin, and water. I've also taken a liking to doing traditional abstract canvas paintings."
Q: WHAT PLANS DO YOU HAVE FOR THE FUTURE?
A: "I want to do another small series based on Skin, specifically, cancer awareness. After that, I will continue with a different direction. I don't think I will ever stop experimenting with Skin, it's the subject I find most interesting of course!"
Q: ANY ADVICE FOR THE NEXT GENERATION IN YOUR FIELD?
A: "Hang out with people that intimidate you creatively. Always seek out to compete against yourself, never against your peers. Don't ignore trends but also don't blindly follow them, and always push to create. That's what truly fulfills an artist.
This article was originally published in the 2015 Body Issue of VETTA Magazine.