05 Aug

Spreading The Condiment Love: Victoria Amory And Her Chic Culinary Collection

Sugar, spice and everything nice have come together in Victoria Amory's eclectic collection of colors and flavors in her namesake line. Born in Spain, Victoria Amory has set herself apart as a passionate cook, award-winning author, lifestyle TV personality, entrepreneur and tastemaker, and is now leading the way for the rapidly growing food category of creative artisanal condiments with inventive ketchups, mayonnaises, and exotic sauces such as Piri Piris and Romesco.

"In 2012, I was asked to bring some food to a school function and not wanting to make brownies, I decided to make a collection of my favorite savory sauces," confessed Amory. "I made Ketchup, BBQ sauces, chutneys and savory jams, about 200 of them! I then put labels on the jars and took them to the school; they sold out in 10 minutes." The intrepid businesswoman honed her skills as a hostess and passionate cook while organizing corporate events and chairing charity galas in New York and Palm Beach, Florida. Entertaining everyone from royals to bullfighters in her casual elegant style, Victoria has successfully intertwined the European style of her youth, adolescence, and lineage with her sense of American spirit and practicality to develop a philosophy of life and entertaining that she has magically captured in her books, magazine and blog articles and in her appearances on television.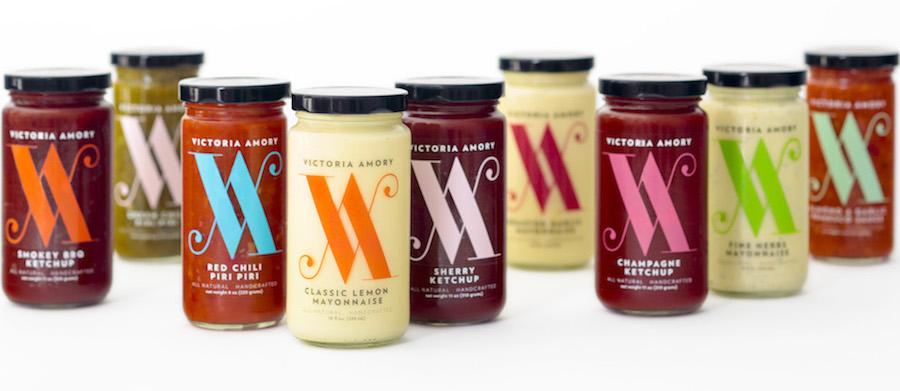 "As I was born in Spain and have traveled throughout the Mediterranean, I wanted to use those flavors and aromas as my inspiration. My goal was to really create a brand of foods that are real, authentic, delicious and all with an elegant twist," added Amory. She stated that flavors like olive oil, champagne, sherry, pimenton, fresh herbs, lemon are easy to use for everyday and elegant enough for entertaining.
"As a Spaniard, it is in my DNA to be hospitable and welcoming. I love having people come to my house and adore every single aspect of entertaining. From grand events to cozy dinners in the kitchen, it is all fun and exciting if the hostess has a good time and I believe this is the key."
Her chic products are just a reflection of her distinct lifestyle. Easy elegance has become the life philosophy of Madrid-born Amory, who learned the art of gracious entertaining from her parents, the Count and Countess de la Maza. "Our house was always full of family and friends" Amory recalls. "Every meal was memorable." Today, Amory finds pride and pleasure in creating the same warmth and welcome for her friends, family, and fans. With the conviction that every occasion should be an opportunity to give back to those she loves with pride, pleasure and a touch of sophistication, Amory has made sharing secrets of graceful -and practical- hospitality her life's work.
Amory former was named the next big thing in the condiments world by the Center for Culinary Development in San Francisco. Reinventing and elevating favorite sauces with the rich flavors of the Mediterranean, Victoria brings a fresh perspective on cooking and makes it easy to transform everyday meals into everyday feasts. Her approach proved to be a great success. In one year since its launch Victoria Amory & Co. condiments collection expanded to over 650 stores nationwide including Central Markets across Texas. "In Texas all our products are doing really well. Central Market has been instrumental in using our condiments and sharing them with their clients. I am very impressed that our mayonnaises, hot sauces and ketchups have been so well received.
"Very soon we are coming out with a new collection of Flat Bread Crisps also in Mediterranean flavors and extending the condiment line with a new mustard and a new spicy mayonnaise. We are also working on gift boxes and an accessory line to really create an effortless-entertaining concept," Victoria added about the exciting launches coming up this year.