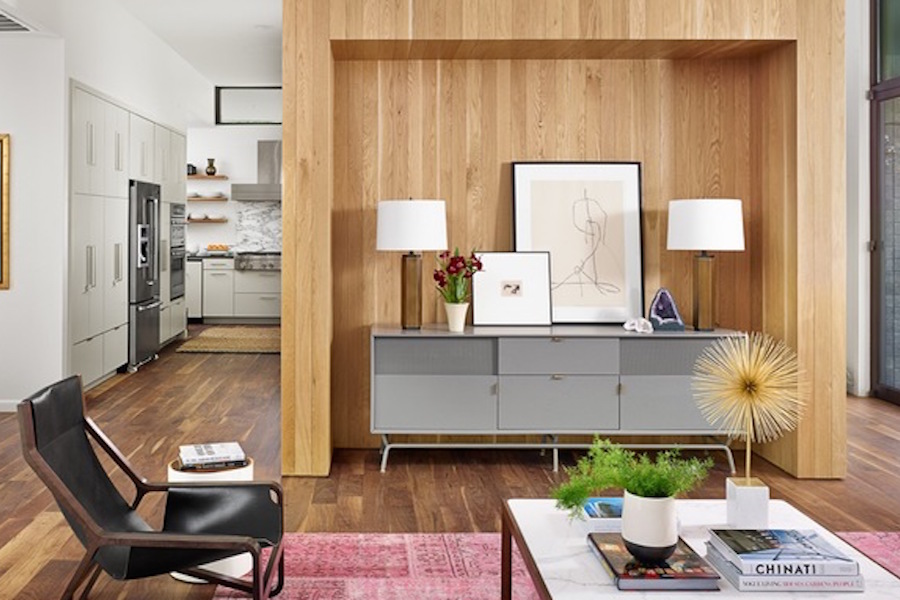 05 Nov

Let's Talk About Modern Architecture in Zilker

Coming to Austin from New York City in 2004, I was already used to the idea that a neighborhood could be a little planet unto itself, and appreciated the idea that even a four-block area can have a distinct personality. I was happy to find that Austin identifies in a similar way, and its eclectic residential architecture plays a large part of that defining character. Clarksville, Bouldin, Travis Heights, French Place, West Lake Hills, Tarrytown, Rosedale—they all have architectural personalities. If you know Austin you can hear 'Hyde Park' and picture craftsman houses on tree-lined streets, or conjure stone-clad mid-century modern ranch houses in your mind when you hear 'Rollingwood.' I've been lucky enough to spend the last nine years in the Zilker neighborhood just a mile south of downtown, which has a wonderful assortment of housing styles, including several designed by A.D. Stenger in the 1950s. Stenger's work is reminiscent of California developer Joseph Eichler's—with low, peaked-roof ranch houses, angular lines, exposed beams, and clerestory windows.

As Austin grows, with some 110 people moving here per day, Zilker is evolving. It's been bittersweet to see some of the old buildings and businesses disappear, as well as my neighbors with the peacocks and chickens in their front yard. Still, I embrace most of the changes, especially when they mean more walkability.

Architects make their mark

A huge part of Zilker's evolution lies in its beautiful new houses. Baldridge Architects is one of a whole list of accomplished designers adding value and beauty to the neighborhood with their work. I've just finished almost two years of design and construction on my own house, and now I'm watching in awe as at least four houses in a three-block radius are in the midst of construction.
My neighbors Adam and Traci Reiser are building an uber-sustainable modern tower across the street from me, made of what I thought were concrete blocks. According to their architect Gordon Wittenburg, who is also a professor and the director of graduate studies at Rice University's School of Architecture in Houston, they're actually a wood product—a hollow block filled with concrete." The house will be innovative and gorgeous (and hopefully on the Modern Home Tour in Austin in February of 2015). Other architects with projects complete or on the boards nearby include Michael Hsu Office of Architecture, Dick Clark + Associates, FAB Architecture, Thoughtbarn, Jay Hargrave Architecture, CG&S Design Build, KRDB, McKinney York Architects, Studio D+Form, Moore Tate, and Stuart Sampley Architect.
"Regardless of the time it took to complete our project (almost two years), this house has changed our lives for the better and given me new perspective on the value of the work of architects and contractors—that merging of art, craft, science, and physical making that results in a beautiful house."
Stuart Sampley in Zilker

Stuart Sampley may live in Bouldin, but he spends a whole lot of time in Zilker. He has at least five houses completed or in construction in the neighborhood, and his thoughtful designs, efficient processes, and timetables continue to attract Zilker dwellers. While each house he designs is completely unique, they all fit their context, and he has a deep appreciation of the location, character, and history of Zilker. "The topography in Zilker is different than any other neighborhood," he says. "It's its own little corridor. And historically the houses are diverse and eclectic, which mimics the people who live here. I prefer design rooted in history, and then streamlined."
Bigger and cheaper is not better

Plain spoken as he is, Stuart says his houses are not all modern; in fact, some are very traditional. But he's adamant that whatever the design philosophy, the context and scale must be considered. He's not a fan of what he calls "parasite additions"—giant, obvious additions that often dwarf the original houses—and renovations that take up entire lots with bulky volumes inconsiderate of proper orientation, context, and thoughtful design. "A lot of builders in Austin value the work that architects do, but some do not," he says. "They're not protecting scale and historic precedence. You can't break the rules well until you know them." Burton has a similar take on what's right, and what's wrong with the evolving housing stock of Zilker. "I love adventurous but rationally conceived custom architecture where people really consider their enjoyment of the house more than the potential resale value predicted by realtors," he says. "An unassuming low slung modernism runs strong in Zilker and I love its homes (new and renovated) that respect this tradition. Sadly, what I see all too often in all of Austin's neighborhoods is a generic contemporary architecture—homogenous structures programmed by realtor statistics, and shaped by the form-determinant ordinances."

"A lot of builders in Austin value the work that architects do, but some do not. They're not protecting scale and historic precedence. You can't break the rules well until you know them." – Stuart Sampley
Many of us in Zilker welcome the new growth and the changes in the neighborhood (while still holding the memory dear of its history and evolution) and look forward to the completion of Lamar Union. When you see a person pulling a little cart down Treadwell St. to pick up some milk from Lamar Union's new grocery store, River City Market, say hello. It's probably me.