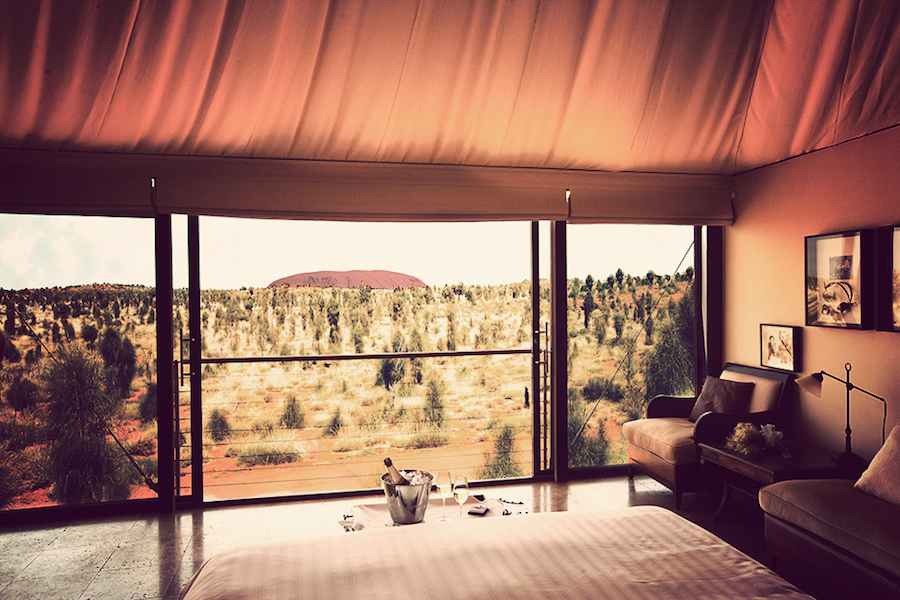 18 Apr

Australian Leisure: Our 3 Favorite Luxury Hotels in Northern Territory

These top-notch travel spots in Northern Territory have managed to unite the luxuries that elite jet-setters expect from the world's best leisure destinations, with the majestic natural wonders of the Australian outback. Here are top picks for luxury hotels in Northern Territory, Australia:

The perfect antidote for those looking to break out of the stress, crowds, and complexities of modern life, this exclusive resort on Bremer Island is the perfect escape. The facilities at Banubanu are described by the owners as 'simple but comprehensive', carefully designed to maintain a minimal ecological footprint in one of Australia's most pristine areas. This fun, laid-back resort accommodates up to 14 guests with its two cabins and five tents. For your stay, you can choose from hideaway cabins in a lush tropical setting with private decks, where breakfast can be peacefully enjoyed; or a cool stay at their beach house, the latest addition to the retreat. As part of their sunset ceremony, you'll be invited to watch the sun sink into the Arafura Sea while sipping champagne and sampling hors d'oeuvres before dinner.
Eco-lovers rejoice! Everything about this getaway is designed for minimal impact. The deck and dining areas are made from deadwood and recycled materials, the accommodations are basically tents, and guests share two showers and use a composting toilet (however, if that's a little too much for you, there is one deluxe cabin with an en-suite bathroom). Banubanu is also notorious for its privacy. Just off the coast of Arnhem Land, the resort is located on Bremer Island, still one of the most undiscovered parts of Australia. However, the property is within Yolngu territory and still inhabited by their people, so you can get a first-hand glimpse at the customs of the local indigenous tribes in an awesome one-on-one exchange. Arnhem Land also offers pure white beaches and fabulous fishing, one of the premier activities at the lodge.
Lastly (and perhaps this is the property's best selling point), the Banubanu is highly exclusive, as only one group of guests is allowed at a time. Whether you're traveling as a couple or with a group of ten, the place is yours alone for the duration of your stay. Now that's true luxury.

No hustle and bustle, no buildings and no worries. A stay at this resort is synonym with a one-of-kind luxury campsite experience. Facing Ayers Rock (one of NT's most iconic natural landmarks), your stay at Longitude 131° will offer a unique immersion into the Australian outback, while still conveying the stillness and beauty of the desert landscape. Enhanced by the area's rich cultural heritage and history, this unusual property features luxury tented pavilions that seem to float over the rust-red dunes of Uluru. Inundated with scenes of stunning flora and fauna, the luxurious and elegant lodge makes for an irresistible escape. Guests are tempted to an exquisite dining experience at Table 131° and treated to world-class service and perks. Whether you prefer dining more privately on the Dune Top or just want to relax poolside, you will be nothing short of spoiled during your visit to this outlandish spot.

A place to eat yummy food, sip great wine and sleep in a safari bungalow. Need I say more? This venue is such a unique place to stay, that the owners have even come up with the concept of 'wild bush luxury' to describe it. Patrons can take great pleasure in the finer things, such as the small number of guests allowed at a time and the exquisite dining (thanks to their chef and the great, lasting impression he leaves on all whom he serves).
FROM THE BLOG: Barcelona e Bona! 5 Reasons to Rank this European Gem High on Your Bucket List
Meanwhile, Bamurru Plains is also a place for great outdoor adventure. Whether it's taking an airboat tour along the floodplain wetlands of the Mary River, catching a river cruise down the Sampan Creek or going on a 4WD safari, these people know how to treat guests to a good time. A fun fact for travelers: between May and October (NT's driest season), crocodiles will love to go sunbathing to regulate their temperatures, and the Mary River system harbors one of the largest croc densities in the world. If crocodile sightings are too much for you, you'll be best advised to steer clear of the wetlands.
Some other fun things to do include: wildlife viewing and bird watching (the property is home to over 230 species). For lodge owners, the experience is focused on the environment and making guests feel as one with their natural surroundings. It's also a great spot to mingle, as the main lodge building serves as its social hub. Additional amenities include their library, a cascading swimming pool and the convenience of helicopter rides to greatly enjoy the fabulous scenery of the outback.
Try them out! Take some time off to disconnect, allow yourself to discover and simply marvel at the new and exotic experiences you have yet to live down under. Will you fancy any of these three top destinations on your next adventure? Send us your experience (and your fun photos!) to editor@internationaldesignforum.com.