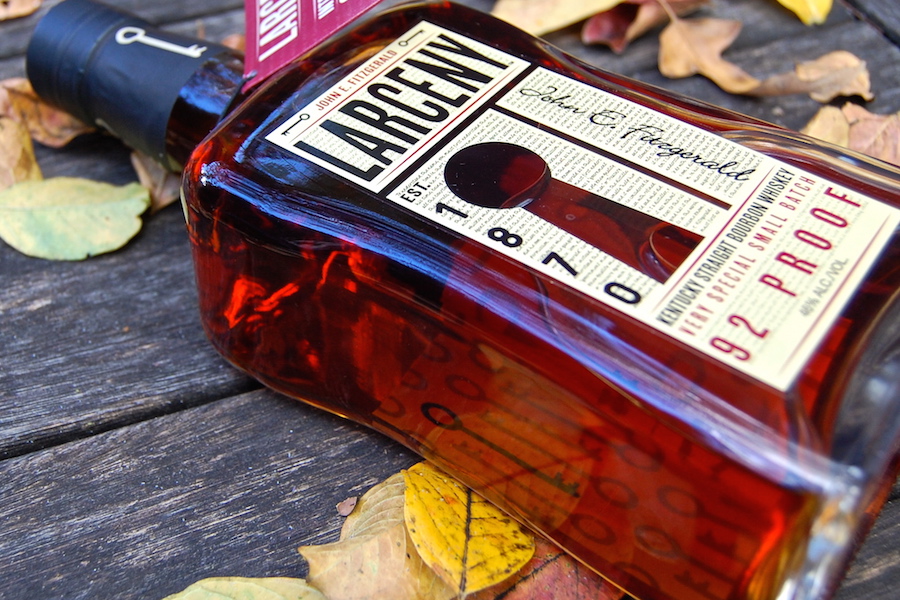 05 Jan

Unlawfully Good: Larceny Kentucky Straight Bourbon
Discovering good bourbon is like striking gold. Or double gold, in the case of Larceny Kentucky Straight Bourbon. THE NAME OF THIS AWARD-WINNING SPIRIT CAUGHT OUR ATTENTION, BUT IT WAS ITS STORY WHAT GOT US REALLY INTERESTED.
Its name hails from historical ties to the Old Fitzgerald brand. It was long believed that Old Fitzgerald was named after a well-known distiller, but it was actually a reference to a taxman with a taste for bourbon. As a treasury agent, John E. Fitzgerald held a private set of keys to the warehouse and he would allegedly sneak into the rickhouse to pilfer sips for himself from the best barrels. Those barrels became known as "Fitzgerald barrels" as a tribute to his appreciation for great bourbon; his infamous actions inspired Larceny's name. The Old Fitzgerald Bourbons were a combination all the best barrels around. With the pick-up from Van Winkle's, Old Fitzgerald was immortalized. What made it unique was the mash bill that contained wheat, rather than the other grains which were used in recipes at the time. This provided a softer, rounder profile to the bourbon.
RECOMMENDED: 'Obrigado!' for Brazilian Cuisine: Exploring the Tastes and Colors of the Vibrant South American Fare
Today Larceny Kentucky Straight Bourbon is recognized as a tribute to the lawless John E. Fitzgerald and his impeccable taste in bourbon. Larceny is made of corn, wheat malted barley and rye mash. Once the grains are milled, they are cooked in the Kentucky limestone water. After fermentation, the bourbon is aged in honey barrels for six to twelve years. Once the aging process is complete, the bourbon is bottled at 92 proof. Steal a sip of Larceny for yourself and experience what John E. Fitzgerald discovered in the warehouse: a superior wheated bourbon with an unmatched smoothness—and a legend in the making.
RECIPE: THE LOCKPICK
Whether you're soaking up the sun at the beach or need a refresher after a long day of work, this iced tea-and-bourbon cocktail will put a new spring in your step. With just a hint of PAMA Pomegranate Liqueur, it's the key to a great night.
1.5 oz Larceny Bourbon
.75 oz PAMA Pomegranate Liqueur .75 oz Fresh lemon juice
3 oz Iced tea (recommended: orange pekoe) .5 oz Simple syrup, optional
Garnish: Lemon slice
Glass: Collins