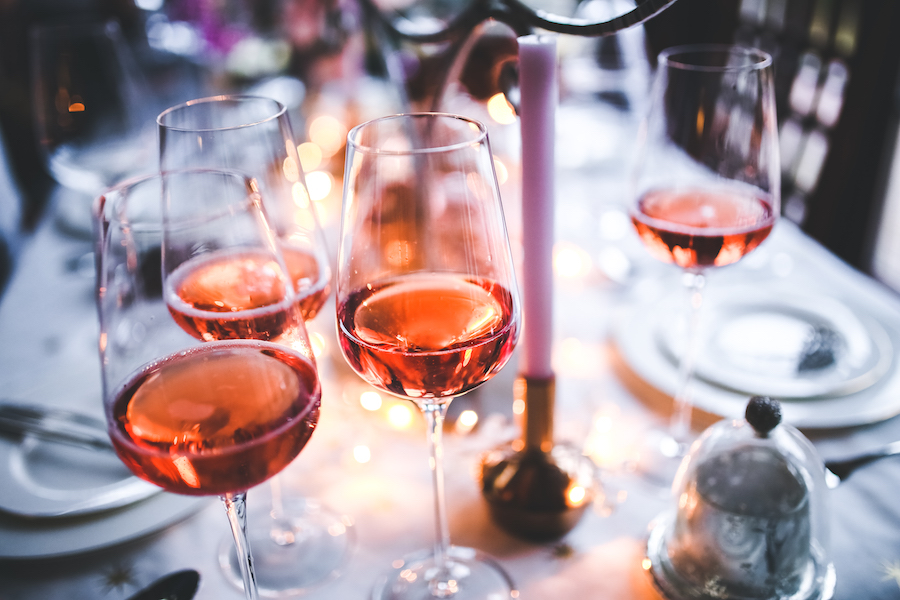 15 Apr

Hostess With The Toastess: 5 Steps to Uncork a Great Wine Tasting Party

Hosting a wine tasting party makes for a chic social gathering (yes, please!). However, most people are intimidated by the process, unaware of how easy and fun it can be to impress your friend with your little amateur sommelier skills. Here's a handy guide on how to provide some divine entertainment without years of experience, or breaking the bank.
GETTING READY
You must decide if you want to throw a white wine, red wine, or mixed party. For the sake of this writer (who loves all things wine), we'll talk about mixing whites and reds for that special evening. You probably don't want to overwhelm your guests (or your bank account), so keep your selections to three reds and three whites. For the whites, I recommend a pinot grigio, a sauvignon blanc, and a chardonnay. As for reds, go with a cabernet sauvignon, pinot noir, and maybe a nice dessert wine to end the evening.
You can always stick with your familiar wine choices (after all, you already know you love them, so it does cut out a bit of guesswork), or head into your local wine store for some guidance. Feeling a little overwhelmed? Try downloading the Vivino Wine Scanner app, which allows you to scan the bottle and instantly retrieve user reviews, ratings, detailed descriptions, and pricing. Regarding how many bottles you'll need, typically you get one tasting for 8 to 10 guests per bottle.
RECOMMENDED: Rethink how you use Olive Oil: Benefits, Facts and Myths
Now that you have your wines picked out, make sure you have everything you need for your guests to enjoy the evening. Keep in mind that there's no need to have a new glass for every tasting. Keep it simple by just having two glasses per guest, and rinse in between tastings. Be sure to dry them well, though, because any water left in the glass can alter the taste. Lastly, make sure all the wines are chilled or at the appropriate temperature before guests arrive.
DIY WINE GLASS CHARMS
A cute little idea for guests is to start the night by making their own charms. Here's a super easy idea: Cut up wine corks (paint them to add a touch of color) and write each guests' initials on them; then thread a small wire hoop to attach them to the base of each wine glass. These also make the perfect party favors for your guests.
UNCORK AWAY!
Now that everything is ready, let the tasting begin! The typical pour for a tasting is 2 ounces per person. Start with lighter-bodied wines, and work your way into the heavier-bodied ones. Make sure you give enough time for everybody to taste and enjoy each wine. You can also teach your guests how to properly taste the wine by following the four S's: swirl, see, sniff, and sip.
FROM THE BLOG: Need to Try: Tahini Veggie Collard Wraps (a great low-carb alternative!)
PAIR IT UP
Hope you didn't forget pairings for your wines: cured meats, olives, and a cheese plate or board. Try adding a tasty brie when sipping your chardonnay or a nice ricotta or chèvre cheese for the pinot grigio. For the red wines, try some harder cheeses such as aged cheddar or Gouda. Also, keep some bread and crackers on hand to cleanse the palate between tastings.
SIP AND LEARN
If you are feeling really creative you can make a tasting card that lists all the wines. On the card, you can include the name, type of wine, producer, year, and a short description. Have pens and notepads on hand if your guests want to jot down the wines they enjoyed. You can use a tasting card that allows your guests to judge each wine on categories such as appearance, aroma, body, taste, and finish. Which wines were the favorites? Whichever bottle wins the evening, will have surely warmed the hearts and souls of your friends.
Salud!