20 Jan

Suburban Dream in Chicago

GOGO design group recently transformed a home for a wonderful couple who live in a Chicago North Shore suburb. During the first meeting, the client described the home as functional, but for many years there were many elements that she didn't like, such as the black and gray color scheme and the lack of warmth. Also, her design style evolved to more traditional rather than the original contemporary home she was living in.

Before the studio began their work, the home's color scheme was black, gray and white, void of any additional color, outside of some lovely glass accessories, a painting and family photos. Most of the walls were empty, as well as the front room off the entry. The fun challenge here was to blend in traditional elements with the existing gray tile flooring, contemporary furnishings, and window treatments while balancing in subtle color from the art and metal finishes to a monochromatic color scheme.

To create warmth, they painted specific walls various warmer taupe colors; mixed warm metal tones such as antique brass and golds with the cooler silver tones of the flooring, built-in wall unit, kitchen appliances and window treatments; installed new lighting in key areas; placed new accessories in strategic areas; purchased lighter toned furnishings for the front room; and created patterned throw pillows with various textured trims. As Owner Rebeca Pogonitz explains, "We also installed art that my client discovered she truly loved. The results were incredible. My client and her husband now love coming Home and spending time relaxing and healing from life's stresses and pressures. They told me the home feels completely transformed. Honoring the client's budget, we created the perfect home for this family's continued life journey, nourishing their design well-being. Mission accomplished."
Kitchen Make-Over
In order to create a more intimate and warm feeling in the existing kitchen, they installed 3 oversized pendants that combined the silver and gold tones that would be simultaneously experienced in the sitting area adjacent to the kitchen. GOGO also purchased new wood base counter stools upholstered in a textured multi-toned, cream/gold/grey fabric that directly related to the light fixtures.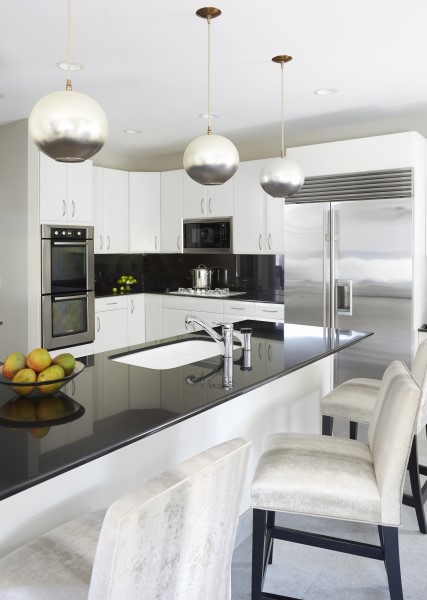 The Rejuvenation/Restorative Area Transformation
This seating area is where the clients spend most of their leisure time enjoying reading and conversation. I regarded this area as the rejuvenation/restorative area. Working with the existing black lounge chairs and window treatments, they added warm toned pillows, a textured throw, a gold-toned tufted ottoman and a gold table.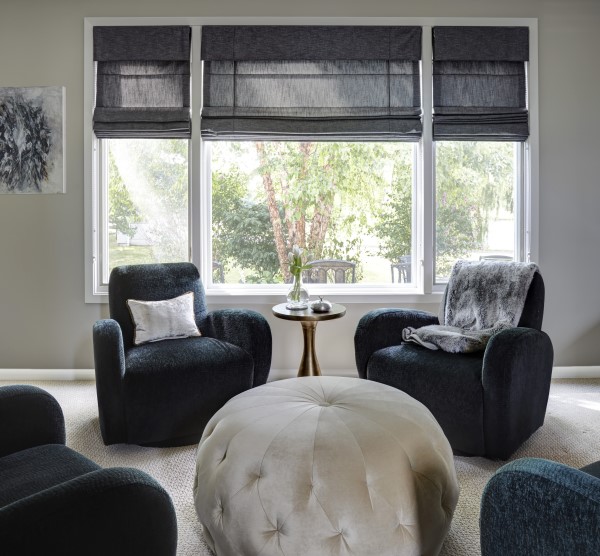 Dining Room Blending
To create the new dining room, the walls were painted a pale shade of gray to serve as a unifying backdrop to the existing drapery, contemporary glass dining table and gray tile floor. In order to serve the client's desire for a more traditional, warm feeling and blend with the contemporary elements, French style upholstered wood dining chairs were added, an organic feeling gold and crystal chandelier and two multi-colored landscape paintings. A large antique gold framed mirror was installed on the opposite wall to open the space.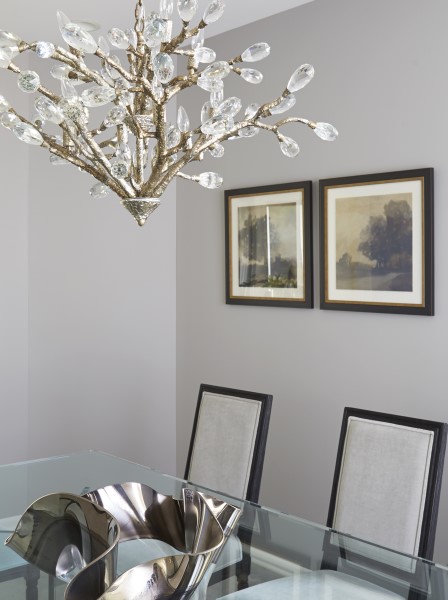 Transitional Interior Design of the Family Room
Working with the existing black sectional and window treatments, they blended in the gold/silver metal finishes now installed throughout the first floor, and broke up the expanse of black color with various sized and patterned throw pillows in gold and taupe fabrics. They also added a round gold/silver base table and coordinating C-table to balance the large sectional and create another zone in the open floor plan where family and friends can congregate and relax.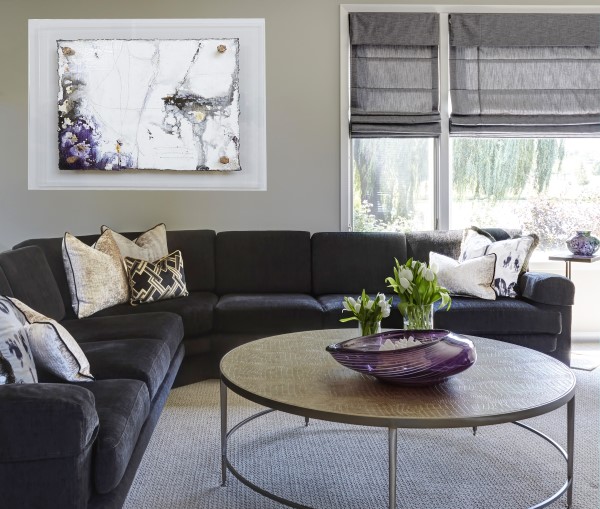 Formal Living Room
The Formal Living Room serves as the focal point of the house, just off of the foyer. Selecting a tufted sofa with acrylic legs blended the traditional and contemporary elements in the home, as the couple's existing black benches serve as the perfect "coffee" table. Drama was created by painting the sofa wall a richer taupe color. The bold symmetry of the two black floor lamps and the art that pops off the wall added even more drama.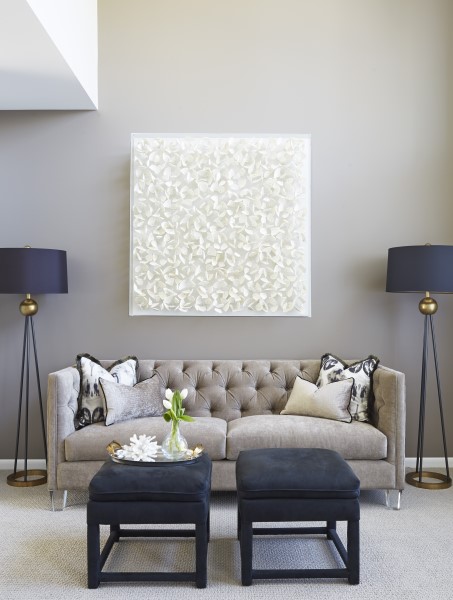 Photography by Mike Kaskel Photo