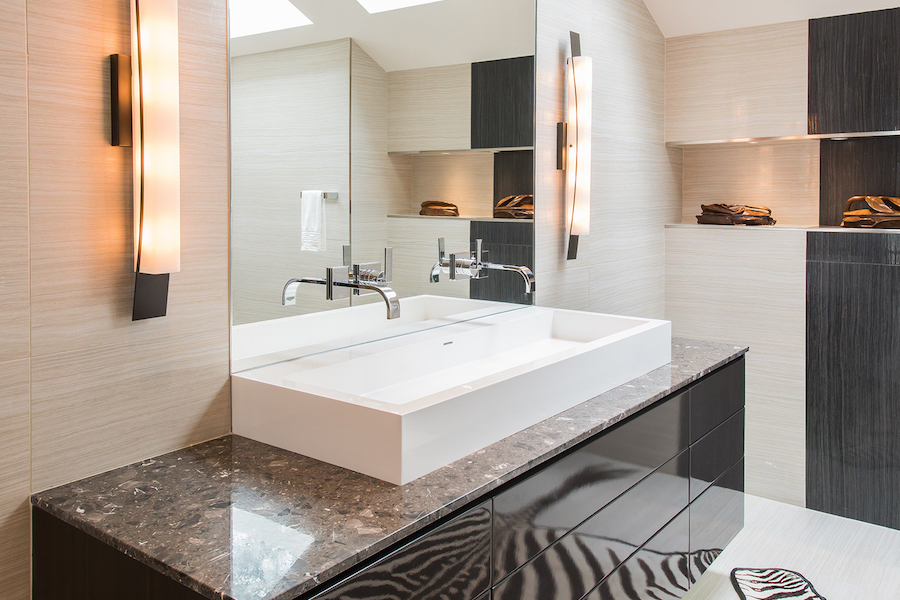 09 Jun

Worlds Collide: A Story Of Design Compromise And Style For A Fabulous Bathroom Remodel

In 1983, Dallas commercial architects Foster+Meier built a custom home for the legendary Dallas Cowboys coach, Tom Landry, in the exclusive "The Hills" neighborhood in Lakeway, Texas. The home was situated on the 18th hole of The Hills Golf Course so that Landry could watch friends and colleagues finish their golf games.

In March 2013, new owners found mold had infiltrated the Master Suite and Bath through the flat rooftop patio above. Multiple contractors were ready to rebuild, except the homeowners had differing concepts of how to finish out the space. Time was ticking to keep a continuous workflow. Chris Browarski, CCB Designs' principal designer, met with the homeowners in October 2013 and learned the mediation of this project would surpass previous challenges. Browarski notes, "When I first met the clients, I was intrigued that the husband was an entrepreneur with a love of all things Texas and golf, and the wife was Italian, with sophisticated, modern flare. Their very different backgrounds brought different design influences – from more traditional to much more modern."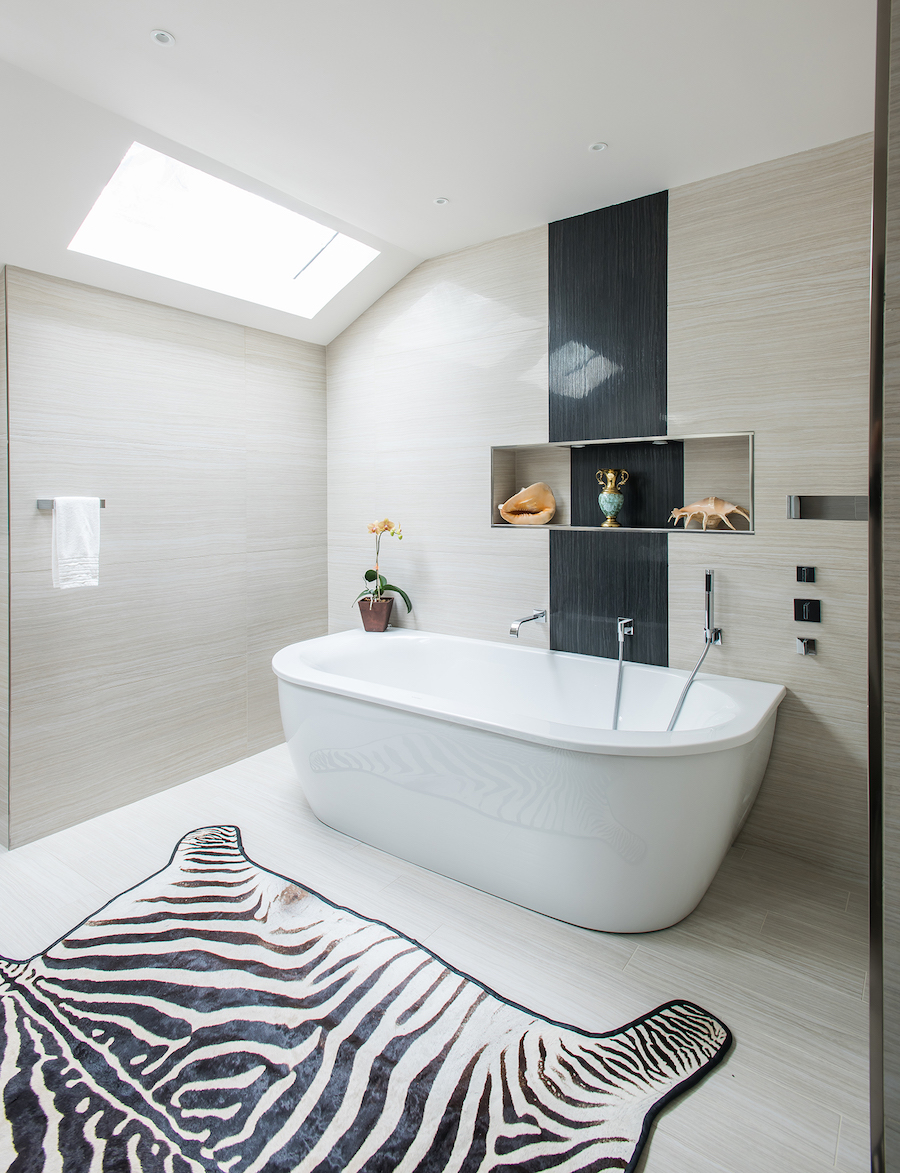 The design compromise process began with The Main Requests: The husband's request was for peaceful, muscle-relaxing soaks after golf games. His preference was the Duravit Darling New Tub with LED lighting. The wife's main request was aesthetic. She longed for sleek, cream-colored, tiled walls with high-contrasting accents of black that reminded her of modern design elements found in Italy. Her husband disagreed, making note that tiled walls would contrast with the rest of the house, which is more traditional. Browarski remembers, "The impasse was confirmed when the husband quietly offered me $1,000 to change his wife's mind on the overall bathroom design."
The remodel of the couples' home in the Provence of Luca, outside of Pisa, Italy, coincided with the Lakeway remodel. While making plumbing, lighting, and cabinetry selections in Italy, they agreed to have similar fixtures stateside for all intents and purposes. Browarski encouraged the clients to review more examples of the large format tile, especially wall installations, while abroad. In Europe, large-format (20"x 40" and larger) tile has been readily available from design leaders Porcelanosa and Cerdomus for years. After visiting several showrooms in Luca, the clients agreed that with subtly elegant tiles and reusing the home's traditional doors and Austrian crystal and brass door handles, both needs for modern and traditional would be met.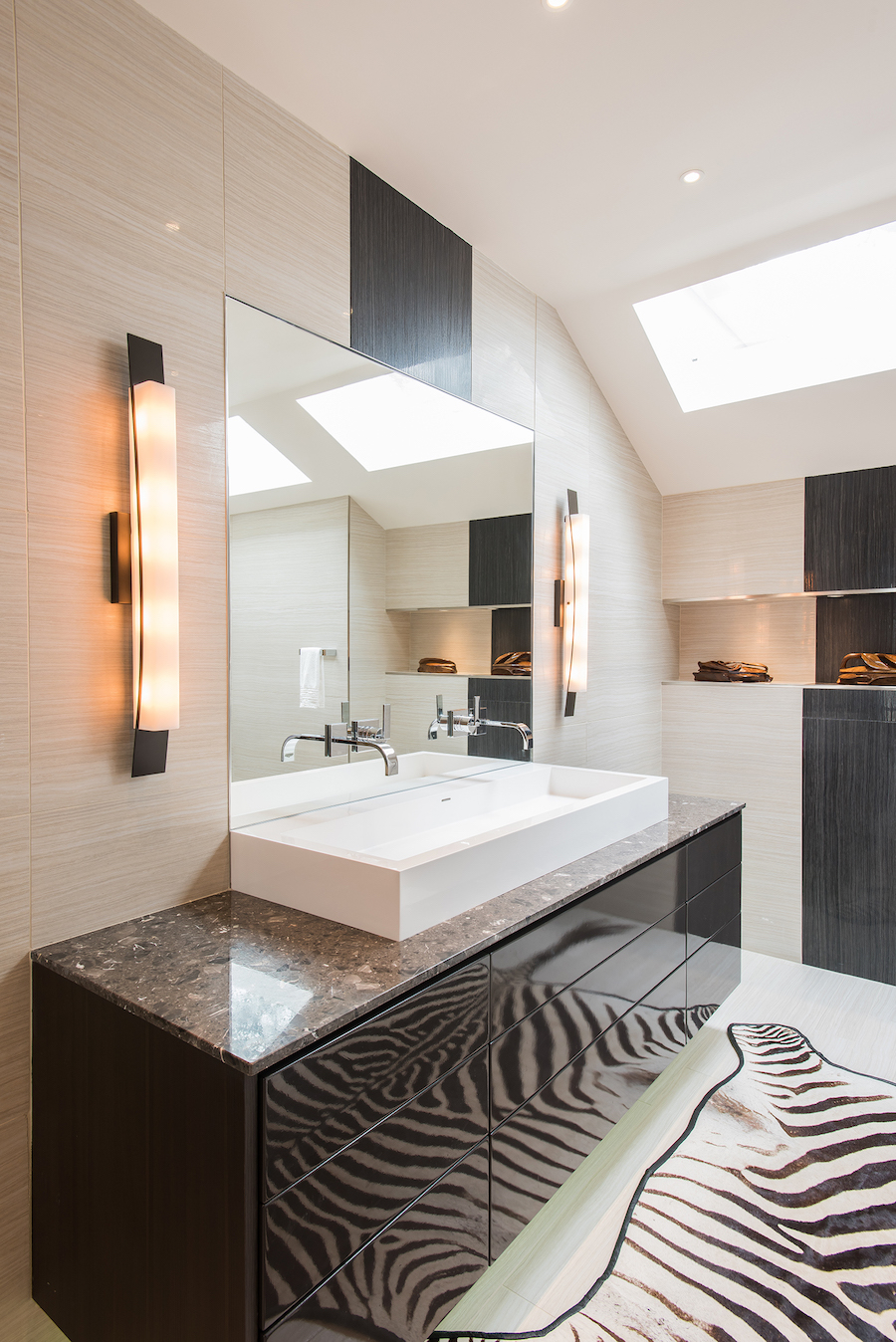 The challenge was now finding similar products in the United States due to the expense of packaging and transporting large format tile. Stone Solutions in Austin, TX, had exclusive distribution for Cerdomus tile. It was here the homeowners agreed on the beautiful, lightly textured and slightly shimmering Cerdomus Avenue tile. The large 20" x 40" Ivory tiles were installed horizontally on walls with the same size Black tiles installed vertically for impact. The floor is the 5" x 40" Ivory tile, laid in a staggered pattern.
Managing two remodels at the same time would be a daunting challenge to any couple, but two remodels on two continents at the same time? The use of materials from the European market creates a luxurious home in Westlake. Done and Done! The completed installation is sophisticated and sumptuous. Both clients revel in having kept a balance of the traditional essence of the home and introducing the elegance of Italian modern design. Browarski continues to offer a fresh perspective for homeowners designing new and remodeled spaces and bringing their concepts to an agreed-upon reality.