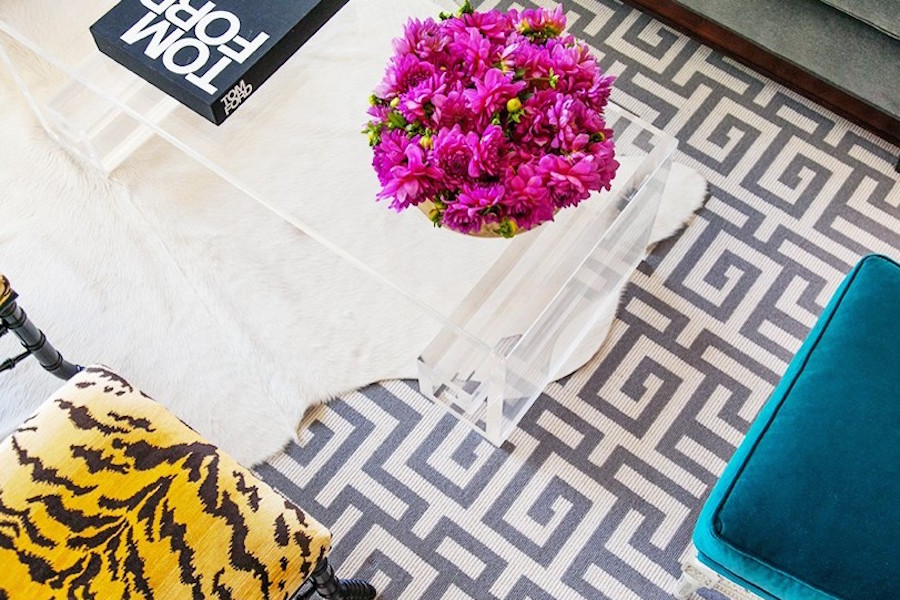 05 Feb

Obsessed With Glamour: The Essential Elements for Glamorous Interior Design

When I die, I hope the waiting room in heaven is furnished with an ornate tufted settee, a collage of vases with lush peonies and a chandelier with thousands of cascading translucent glass drops. It's not uncommon to find me drooling over the pages of magazines, contemplating impossible-to-find artwork, intricate mirrors and heavily bejeweled pieces of furniture, all reminiscent of Hollywood's golden days of glamour. Even if you're not ready to admit it, at some point, we've all secretly obsessed over a lavish piece of tapestry, a succulent strand of pearls or a decadent Egyptian cotton duvet over a sea of down. Needless to say, I've had seasons when I've been severely obsessed with glamorous interior design.
DEFINING 'GLAMOUR'
To set the stage for glamour, a specific tone needs to be established. There must always be an unambiguous notion of elegance present, an undisputed air of sophistication. Something is glamorous when it looks and feels special. Inspiration can germinate from something as simple as an ad in a magazine or a snapshot from an old movie. By definition, glamorous things have an air of allure, romance, and excitement, and glamorous spaces are comprised of objects that are smart and beautiful. Glamorous rooms, by definition, are stylish, handsome and bold. Glamorous stands out. Glamorous pulls you in. It's desirable and feels almost unattainable. Just to entertain the cliché, think Liz Taylor; think Marilyn Monroe. Nowadays, I find myself easily inspired by women like Marion Cotillard.
THE BASIC ELEMENTS
Applied to home décor, there is a very distinct approach to design, and there are some gorgeous staples present in all of my favorite rooms. For instance, ever since I was a young girl, I have always found mirrored furniture to be synonymous with glamorous spaces. I'll never forget thos days flipping through my mom's interior design magazines and seeing a mirrored credenza for the first time. I was instantly in love. The shape and proportions of each authentic mirrored piece will tell a lot about its story and its maker, but the reflective, almost magical quality of a mirror provides unmatched depth and undeniable refinement. The same principles apply to grand mirrors with heavy frames. In general, glistening materials and reflective finishes add a special kind of light to a room, a new dimension of energy and pizzazz. It's the same concept as when we wear diamonds, sequined pieces or a tie made from a shimmery fabric. The eye is immediately drawn; attention instantly gravitates towards it.
Other choice design elements for me include rich, elegant geometric patterns (maybe on lush pillows and roomy area rugs) and fabrics with delicate floral prints (perfect to dress up windows and grand dining room tables). Although I'm not a fan of overly feminine design, I've found about a million ways to spruce up a room using intricate patterns and bold treatments (that won't send hubby running for the hills). Apply those gorgeous graphic elements to a substantial serving platter, add a bar tray and a stylish carafe… I'm home.
FROM THE BLOG: Bringing the Outdoors In: A Vision of Glass and Greenery in this Modern Home in Central Texas
Although textbook glamour calls for white porcelain, rich silks in blues and reds, deep velvets in greens, purples, and gold, there is room for dark grays and – one of my favorites trends – touches of black. Neutral linens or refined weathered woods with gilded details are particularly attractive (evoking European character), while deep grays in rich tweeds and wools combined with deep woods can also make for a great pairing.
Meanwhile, classical, traditional and transitional styling can be glamorous, but certain restraint must be exercised. Without moderation, I trust someone like me can easily get carried away and go way over the top, completely defeating the nature of this particular style. Hence, 'glamorous' has repeatedly been defined as tailored & classic, dealing more with quality than quantity. Moreover, although some will debate over such thing as a 'casual approach to glamour', I'm an old-fashioned girl who believes at least a hint of formality must be conveyed. Glamorous spaced are essentially related to a finer lifestyle, somewhat luxurious. It doesn't need to be prohibitively expensive, but any intentionally glamorous interior design must make an effort to be remotely classic and timeless. Lastly, I adore spaces that look lived in.

KEEPING IT CLEAN. KEEPING IT FRESH.
Glamorous rooms need to be clean and tidy. With carefully curated vignettes and refined accessories, no amount of clutter is acceptable and glass and metals should be nothing but perfectly polished. All of the room's elements and trimmings are evidently edited to a particular taste. Also, there is no need to have everything in the home on display all at one time. Most stylists like to create opportunities to rotate collections, or pull out certain types of accessories seasonally. It is recommended to add, shift and rotate color palettes and objects.
'GLAMOROUS' GETS A JOLT
For me, it's inevitable to gravitate towards refined, attractive pieces when I'm browsing online or flipping through design books. Remember, glamorous spaces and objects have always made me swoon since I was a kid. However, fifteen years later, I find myself mixing up new, eclectic versions of that classy, textbook glamour I sought out in luxe magazines, anxiously waiting for a chance to mix Starck Ghost chairs with heavy, dramatic curtains and flashy floral rugs. I can hardly wait to see the contrast of a voluminous glass chandelier over my polished concrete floors or to start playing with combinations of sumptuous wallpaper to offset some unexpected counterparts in furniture and lighting. It is wildly interesting to see the work of novel designers worldwide, playing with trends, mixing divergent styles and producing highly intriguing combinations. Learning about how rooms are crafted around carefully selected vintage pieces and interesting estate finds continues to fascinate me, especially when the end result is as glamorous as the home I dreamed of growing up.
What inspires you? I love the eclectic, the staple glamorous pieces and antiques, but I'd love to see your mood boards and favorite projects from around the web. Drop me a line: editor@internationaldesignforum.com.