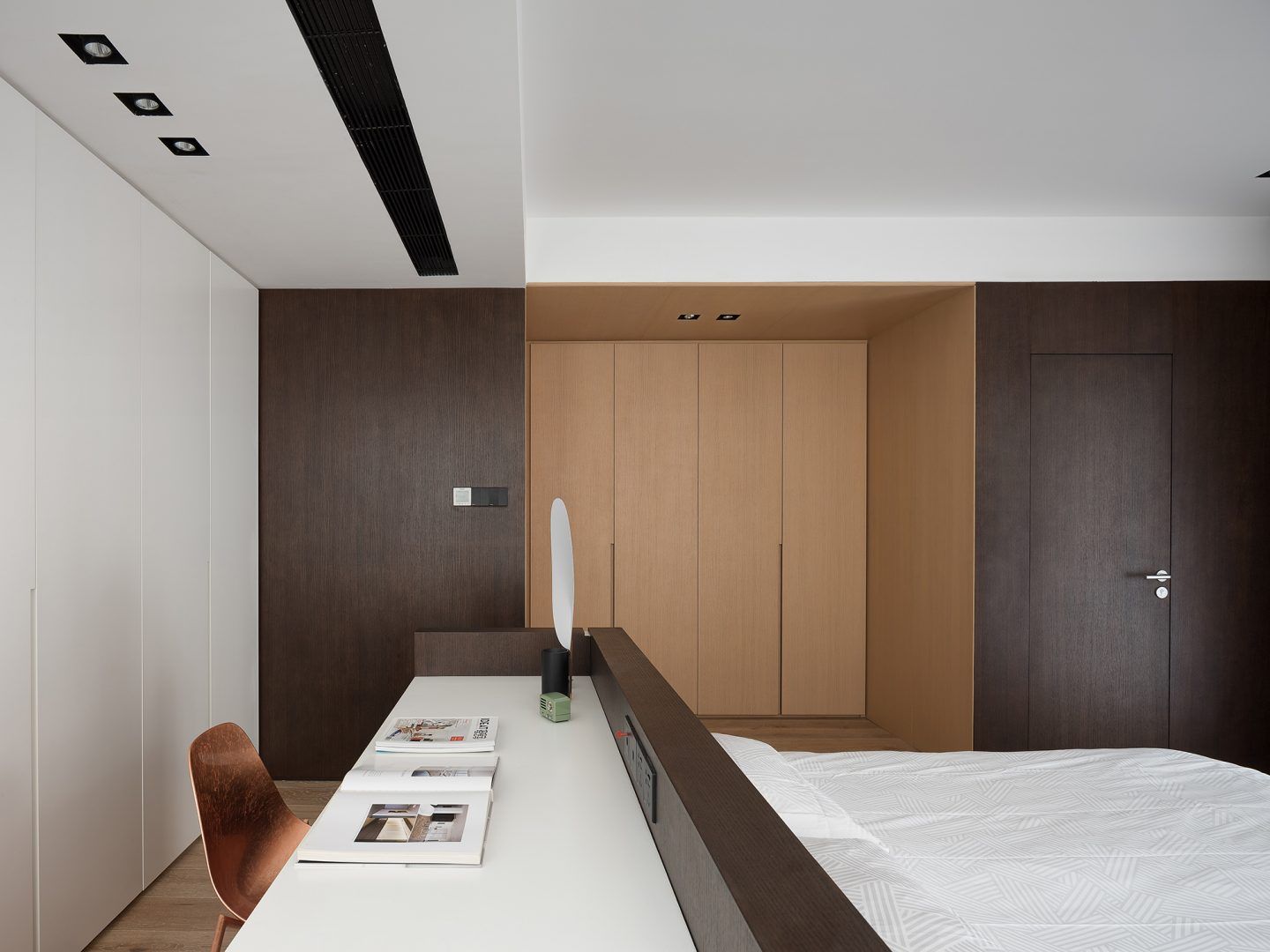 25 Jul

Neat Lines And Blocks To Create Multifunctional Spaces

In this modern, uber-minimalist dwelling, less is definitely more. Chinese multidisciplinary design agency Spring Design Office has reimagined the spaces of 'Explorative Home', a residence in Guangzhou, China, to focus on different living experiences through modern interior approaches. Chief Designer Wu Jiachun reinterpreted the original arrangement of the home's space in favor of a more flexible and open layout that facilitates intimate interaction among family members and friends. The designer reduced the number of rooms, expanding the scale of the living areas and dividing them via steps and color hues that carefully demarcate different blocks destined to suit different functions.
The entire space is dominated by a calming palette of black, white and gray, and is highlighted by the apricot sofa as well as gold and blue chairs, which inject vividness to the interior ambiance. Different material textures, shades, lines, and blocks are well combined, to enrich the layering of the space. 







Upon entering the residence, a dining room characterized by irregularly shaped pendant lamps opens into a vast living room, which is separated via a change in floor height. Behind it, a multifunctional area serves as a transitional space between public and private zones. Here, a sliding door enables the space to be transformed into a closed room, upon necessity.
Contrasting wood cabinets have been introduced to create different experiences throughout the living spaces; minimal and ingenious, they provide convenience, while adding an explorative sentiment to the interior. Spring Design Office endowed the residence with elegant interior designs that echo the owner's inclination for modern and tranquil atmospheres. Different material textures, wood colors, neat lines, and blocks combine to enrich the layering of the space, generating a unique spatial aesthetic throughout. The living and private spaces are dominated by a muted palette of blacks, whites, and grays, delicately interrupted by more vividly colored furniture pieces that produce a stunning visual highlight.
This space embodies the dialogue between the occupants and the designer, who explored and presented the living habits and preferences of every family member. The "appropriate" design languages enable the designer, the occupants and the space echo each other, and hence eventually forming this desired home.