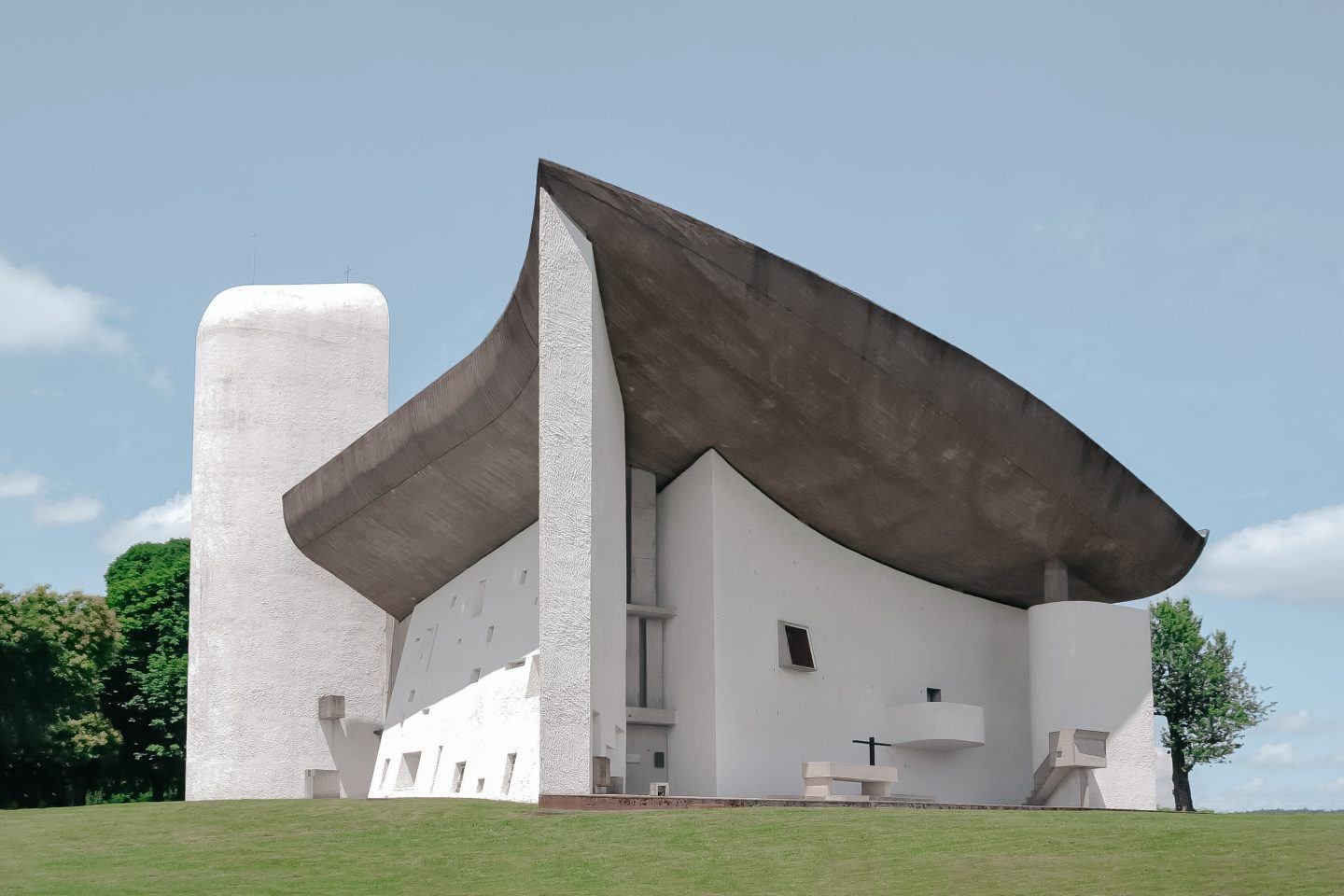 02 Dec

Le Corbusier and the Legacy that "Moves Us"

Charles-Édouard Jeanneret, better known as Le Corbusier (1887-1965), was the "influencer" of his day in the world of architecture. A Swiss architect and city planner, he broke away from the excessive embellishments of his time period and embraced the functionalism of Modernism along with sculptural expressionism which made him known internationally, respected and treasured historically, and considered as both one of the most brilliant and controversial personages of the 20th century in his field. He designed his first house at the age of 20 which motivated him to pursue architecture as a career.

From then on he would design 300 buildings and write 24 books in a life that included being a sculptor, furniture designer, and painter. Le Corbusier is referenced as once saying "The purpose of construction is TO MAKE THINGS HOLD TOGETHER; of architecture TO MOVE US." And move us he has. Down to this day, his designs are distinctive because of their geometric forms, asymmetrical compositions, and horizontal plans with open floor plans thus proving the significant contributions he has made to the architectural world. With works in eleven countries on four continents, IDF gives you a brief tour of some of these designs, included in UNESCO's World Heritage Sites. 
Villa Savoye · Poissy, France
Le Corbusier's Five Points of a New Architecture formulated back in 1927, are transcribed iconically in Villa Savoye. This villa, which was designed along with Le Corbusier's cousin Pierre Jeanneret, was commissioned as a weekend retreat in the forest on the outskirts of Paris for the Savoye family. (Photography by L.Strike)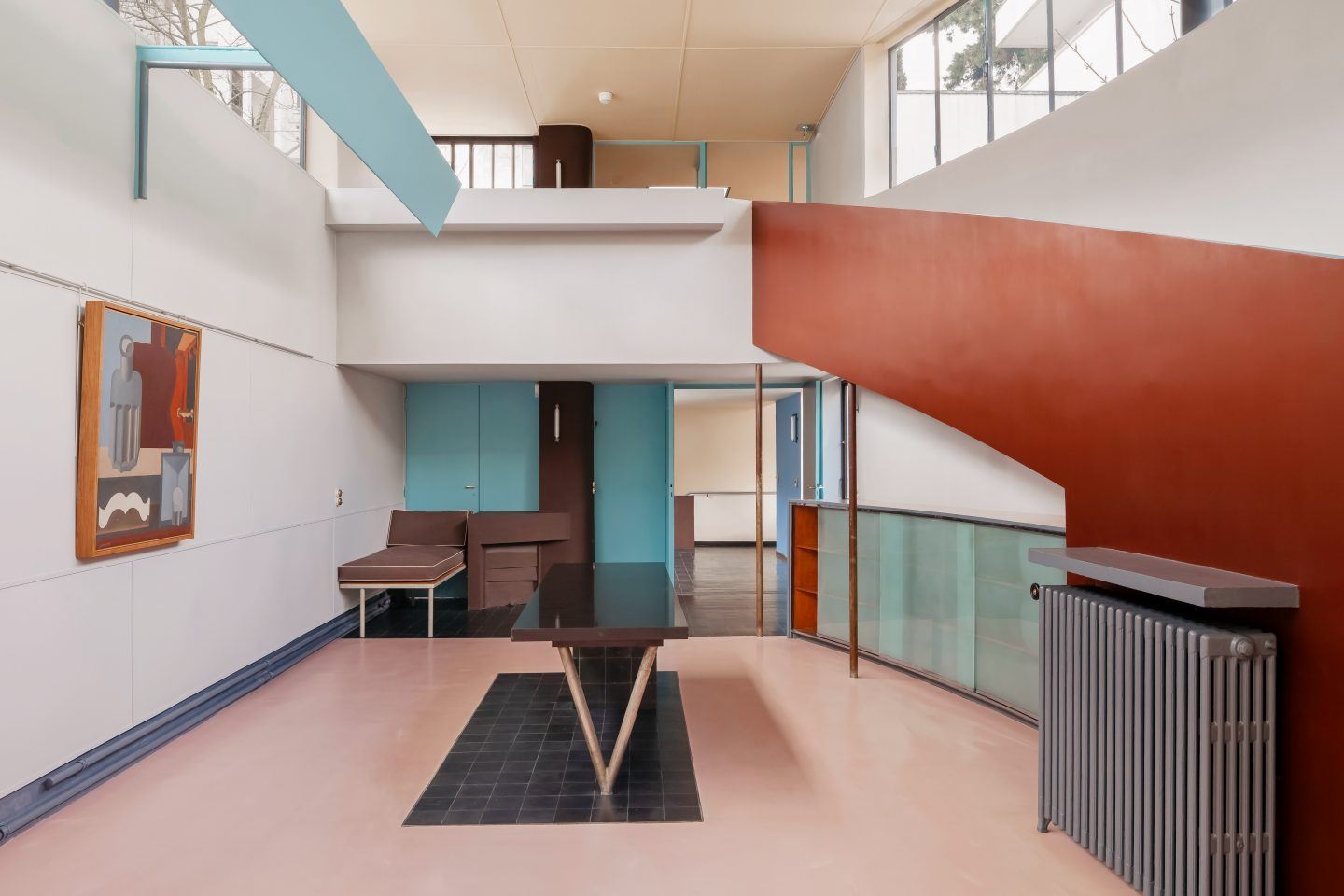 Maison La Roche · Paris, France
Le Corbusier designed the home for his brother Albert Jeanneret and his own close friend, Raoul La Roche. It is considered to be the architect's first true Modernist home, with its unique geometric forms, minimal aesthetic, and its tempered color palette. At present, the villa is a museum and exhibition space for the Fondation Le Corbusier. (Photography by Oliver Martin Gambier)
Saint-Pierre · Firminy, France
This church that was designed in 1960 but completed in 2006, some 41 years after Le Corbusier's death, is referred to as his last major project. It is located in what used to be a mining and industrial area, which contributes to why the building does not look like a religious center but actually more like a factory's power room. He wanted to create a setting that established a place for spiritual enrichment on a modest scale, embracing and celebrating the workers of the region. (Photography by Richard Weil)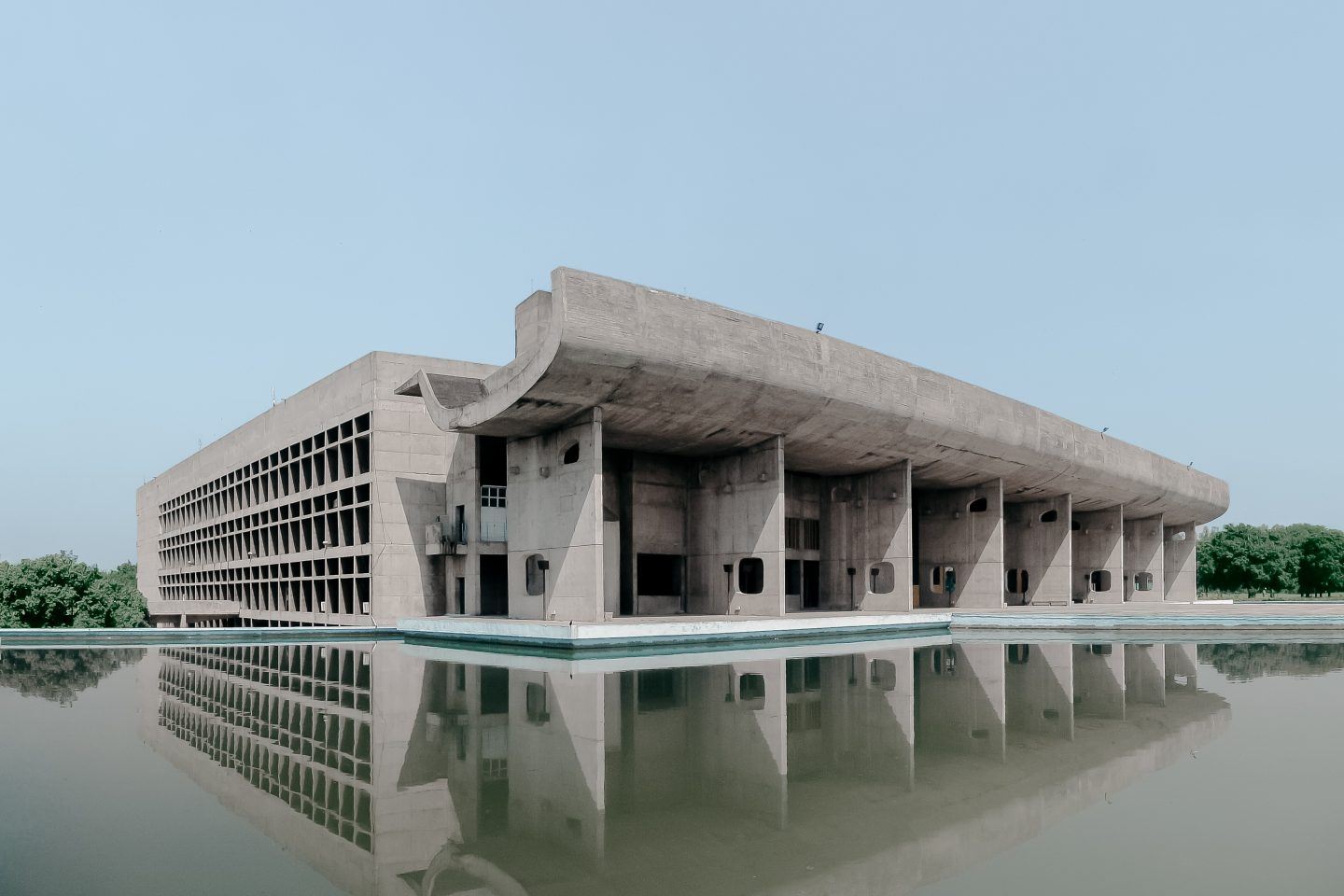 Palace of Assembly · Chandigarh, India
Le Corbusier's sculptural forms are highlighted with this structure that is part of the government compound known as the Capitol Complex. This immense structure that is 250 meters (820 feet) long and 8 stories high,  was designed to have an open-plan interior, framed by a grid of reinforced concrete columns, offering a view of the nearby Himalayan mountains. 'Palace of Assembly' puts Le Corbusier's Modernist theories to work on a monumental scale.
Corbusierhaus (Unité d'Habitation) · Berlin, Germany
Trying to reinvent itself after the ravages of World War II and facing the need to house displaced citizens, Le Corbusier brought to Germany a concept he had used in France. Called the 'Unité d'Habitation', it was a large scale, communal residence building that would be included in the role of promoting the trend of Brutalism. This high-rise social housing project that had 530 apartments spread throughout several floors and its Berlin version would come to be known as Corbusierhaus. The modern structure and use of beton-brut concrete give the housing block a neutral aesthetic composed of unbiased housing. (Photography by Gunnar Klack)
The National Museum of Western Art · Tokyo, Japan
Located in central Tokyo, The National Museum of Western Art is the famed architect's only built project in the far east. Opened to the public in 1959 as a museum to house the collection of works gathered by the industrialist, Matsukata Kojiro, is made from precast reinforced concrete panels resting on steel brackets, with the central galleries laid out in a square plan. This design highlights the architect's influence on Brutalism. The New York Times once referenced that the building itself presented an "artistic significance and beauty" which rivaled the paintings inside.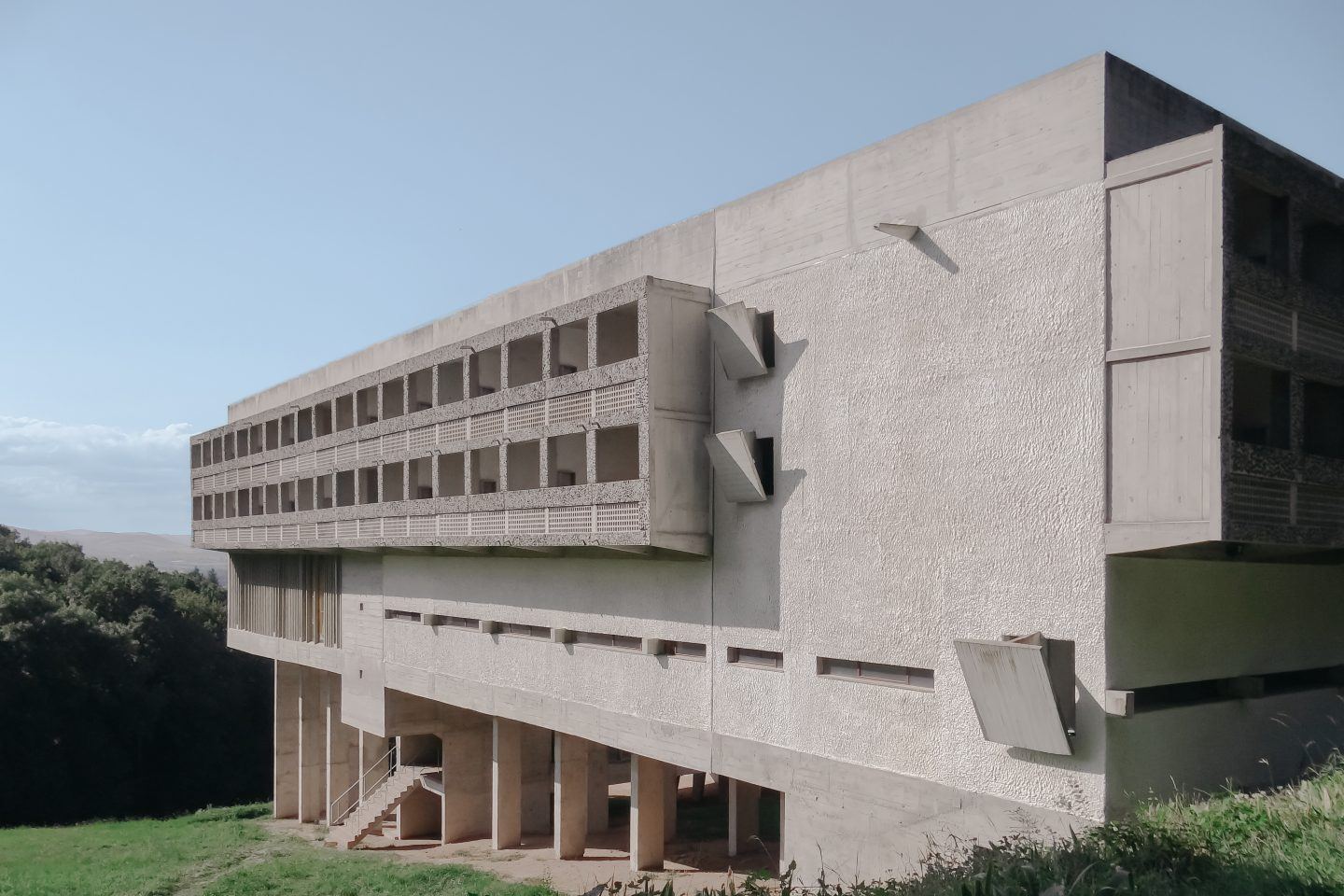 Couvent Sainte-Marie de la Tourette · Éveux, France
This Dominican monastery that houses a community of monks can be seen as an application of Le Corbusier's five points of new architecture to a large residential complex. In this case, there are 100 individual bedrooms with a balcony, a communal library, a rooftop cloister, classrooms, and a church. The interior of the church reveals a concrete box that is given a spiritual essence through its use of natural light and strong color, both selectively and carefully placed. (Photograph by Alexander Norman)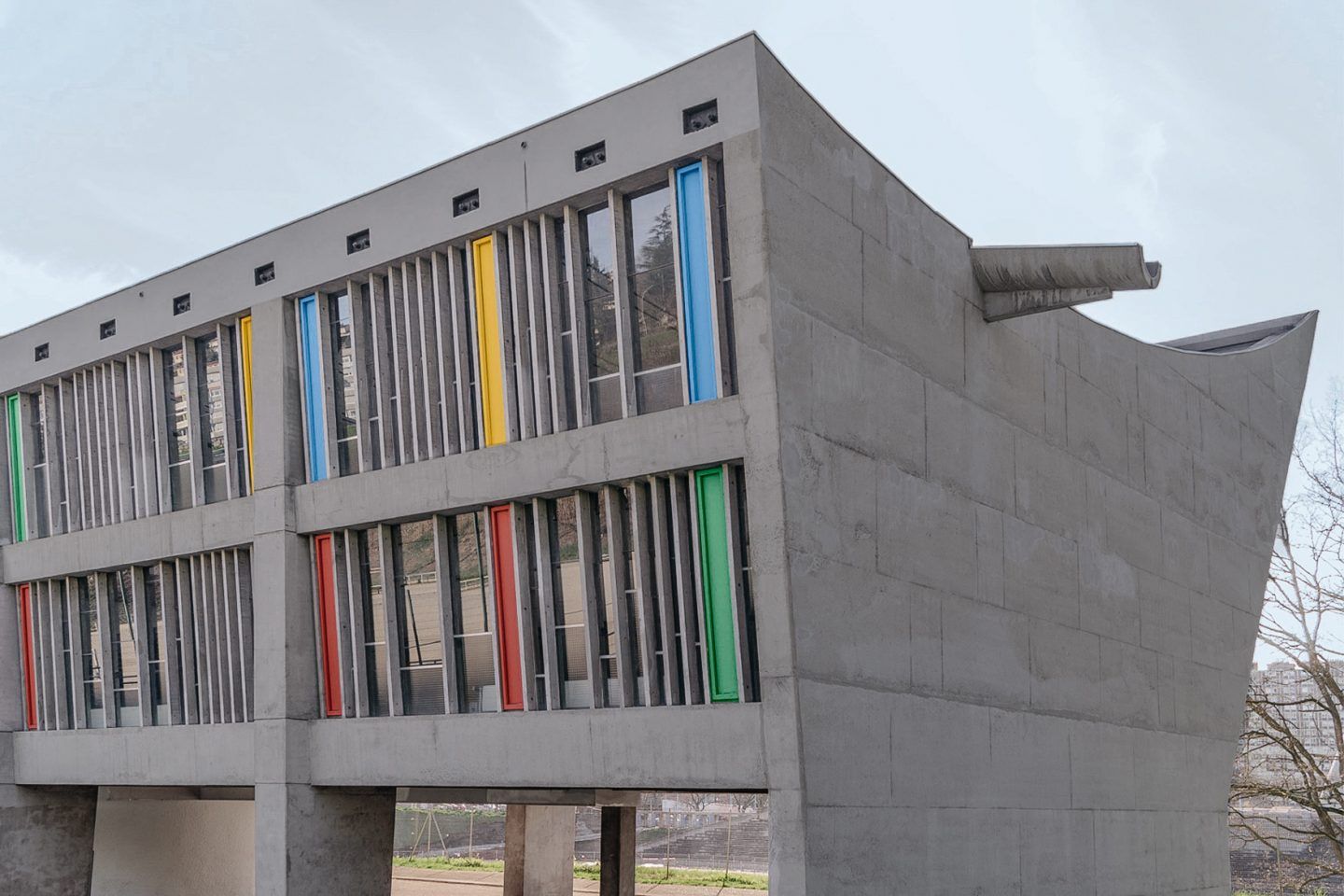 Maison de la Culture · Firminy, France
This 112-meter (367 foot)  long building is located on the former site of a coal-grit quarry and features an unusual appearance when viewed from outside: the roof is attached by means of a system of cables, giving it the appearance of an upturned vault. The structure is composed of 16 sections organized over three levels and contains a music room, an auditorium, a theatre, an art room, a bar, and a dance room amongst other facilities. It was completed the year of the architect's death and is still used as it was originally built for, a cultural center.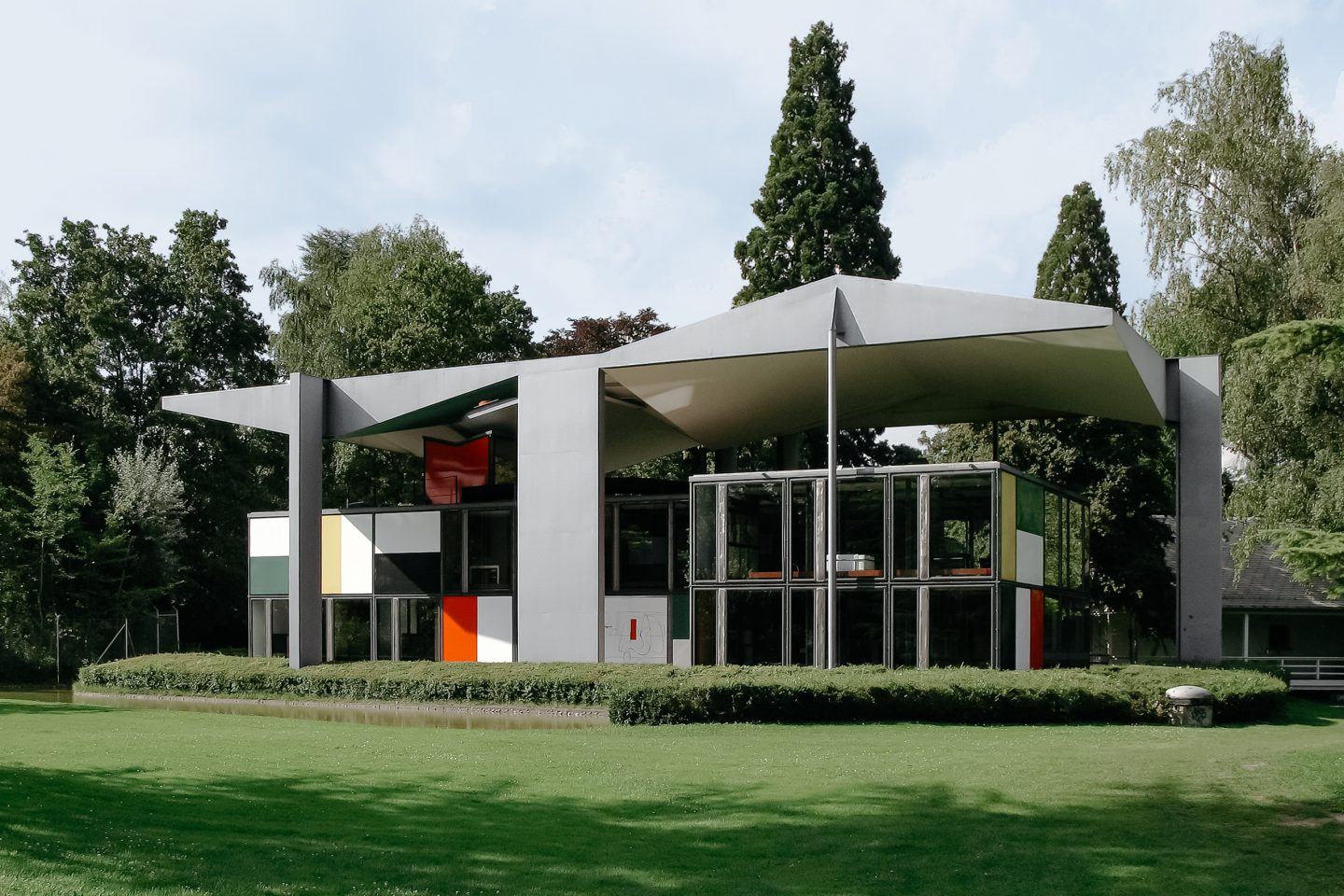 Pavillon Le Corbusier · Zürich, Switzerland
The home, also known as " Le Corbusier House", represented a pivot from Le Corbusier's original Polychromie Architecturale of 1931 by using colored panels instead of only using Purist color plan. The structure is located near the shore of Lake Zürich and was made for Heidi Weber as a personal home and where she would keep a collection of Le Corbusier's artwork. It is entirely built of glass and steel. It would be the architect's last design of his life, but one of the most notable. Photography by: Andrew Bossi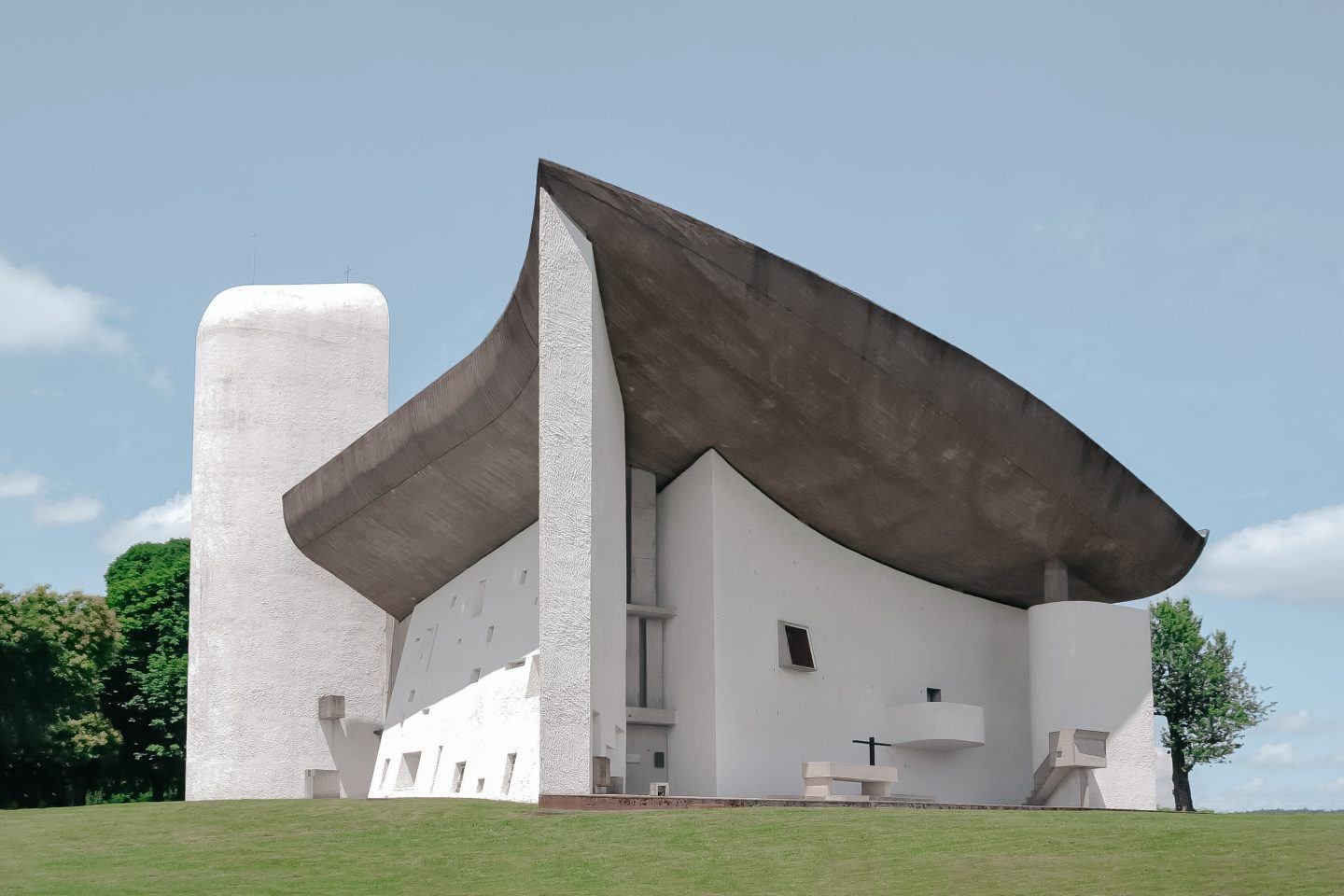 Notre-Dame-du-Haut · Ronchamp, France
As one of his most acclaimed designs, Chapelle Notre Dame du Haut, the small Catholic chapel was completed in 1954 on a pre-existing pilgrimage site. The previous stone building had been a victim of the second world war and presented an opportunity for Le Corbusier to take a turn from the functionalist form of Modernism that he had earlier displayed due to both the physical hillside location and the historical legacy of the original structure as a place of worship.  A rolling concrete roof is supported by thick curvilinear walls, which feature an arrangement of irregularly shaped windows. To this day, it is iconic.