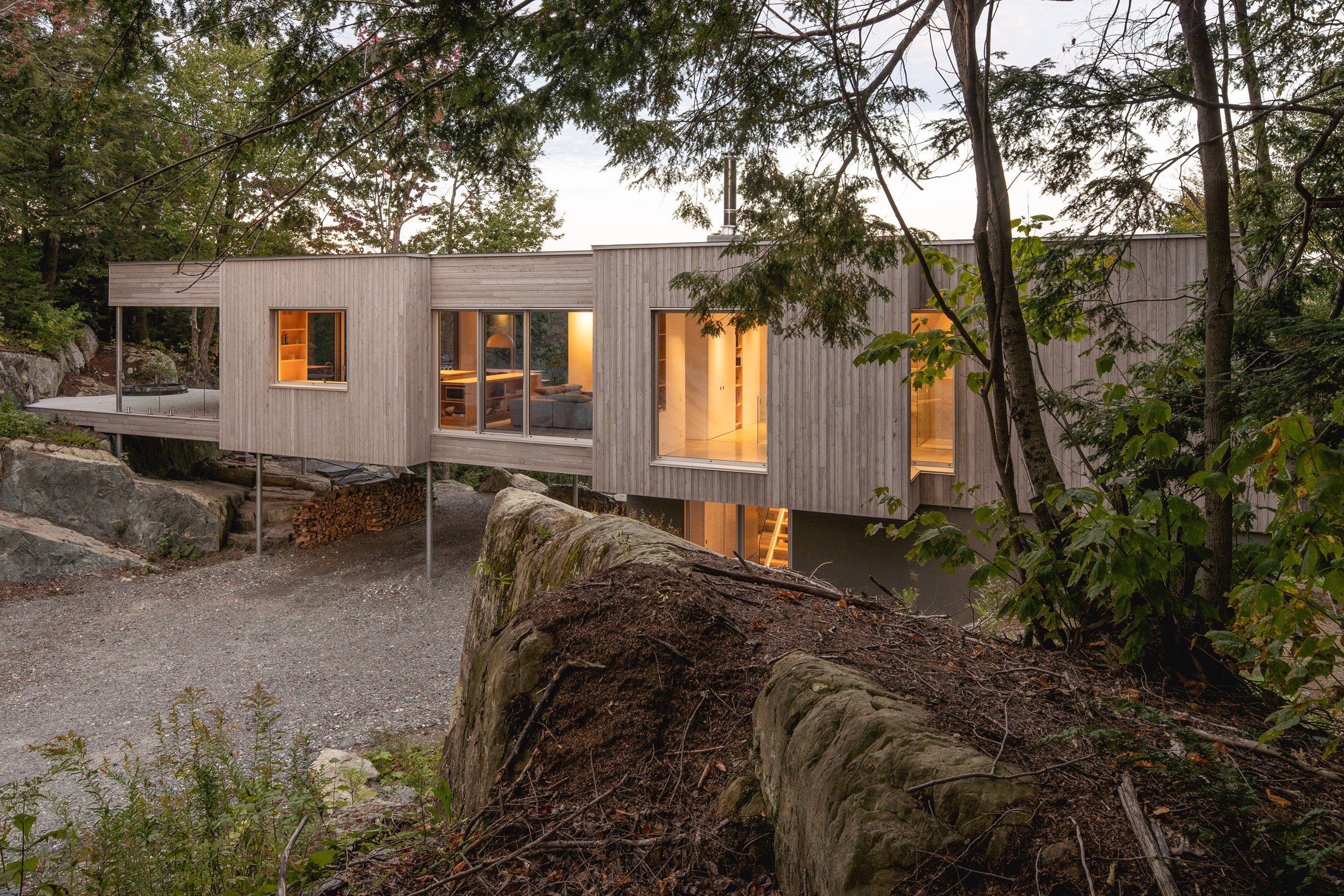 22 Dec

Getting a Better View of the Forest on Stilts

Rocky landscape and lush forest were the canvas that Canadian architect Natalie Dionne worked with on her project aptly named Forest House I. IDF takes you to this forest haven in southeastern Quebec, which was created for a couple seeking to live in closer proximity to the natural world. The location is about 60 miles southeast of Montreal in the Eastern Townships and required a unique addition to make it more suitable to the landscape.

Because the location of the project included an array of rocks, among them a specific boulder that reached almost 10 feet (3 meters) high, Dionne worked with the clients and both decided that the home should be at the same height as the rock. What resulted was the ingenious design of a home lifted from the ground on stilts. This concept enables the house to sit at a level that can enjoy the views of the ridge and forest landscape. Also, natural light comes through the home enlivening the living spaces. The architect does refer to the rough climate of the area, so to guarantee a true life-cycle for the home she explains, "At three meters you just have to make certain that the structure is adequately cross-braced and that it is as discreet as possible."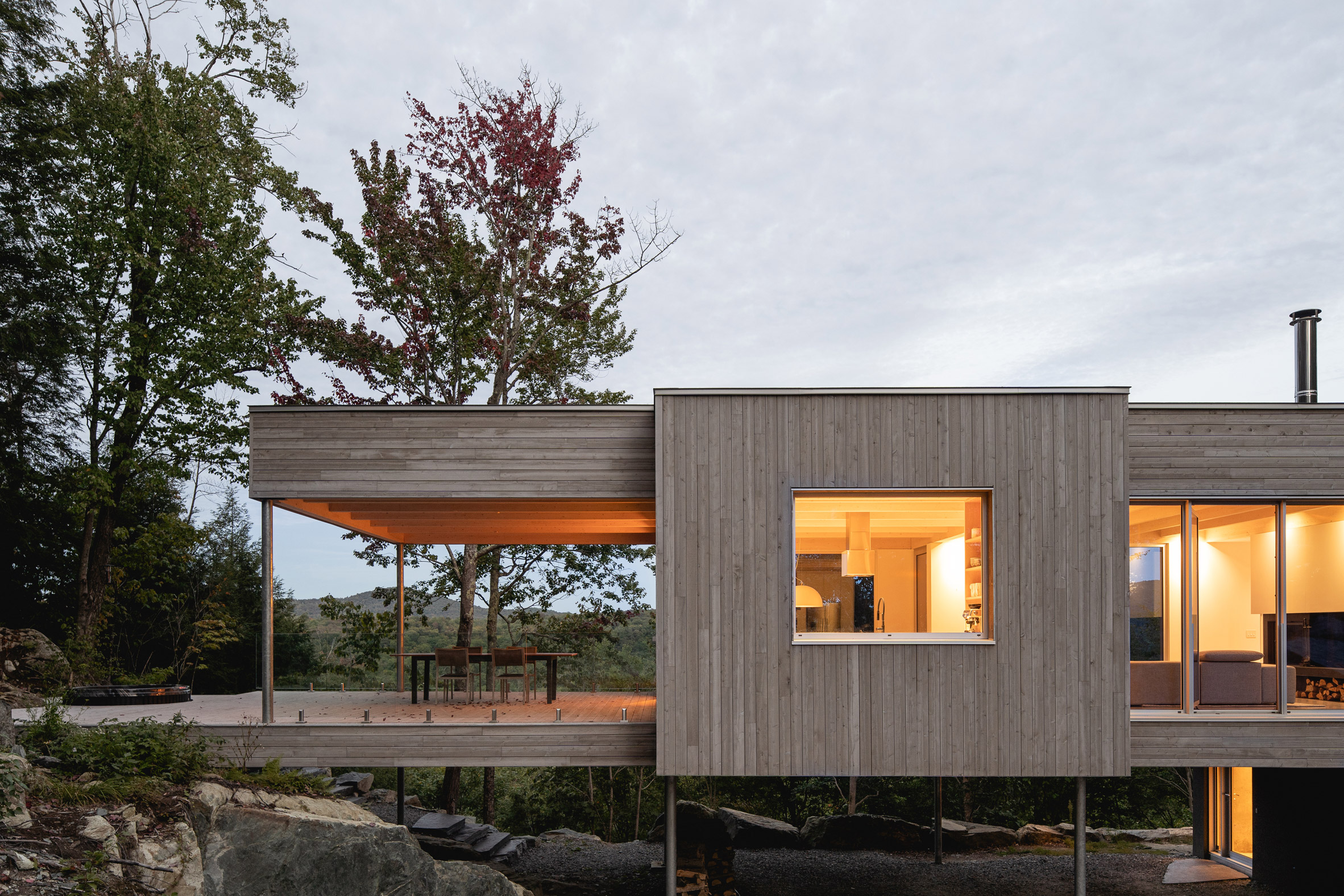 Dionne's aim was to blend the home "into the landscape like a chameleon sunning itself on a rock"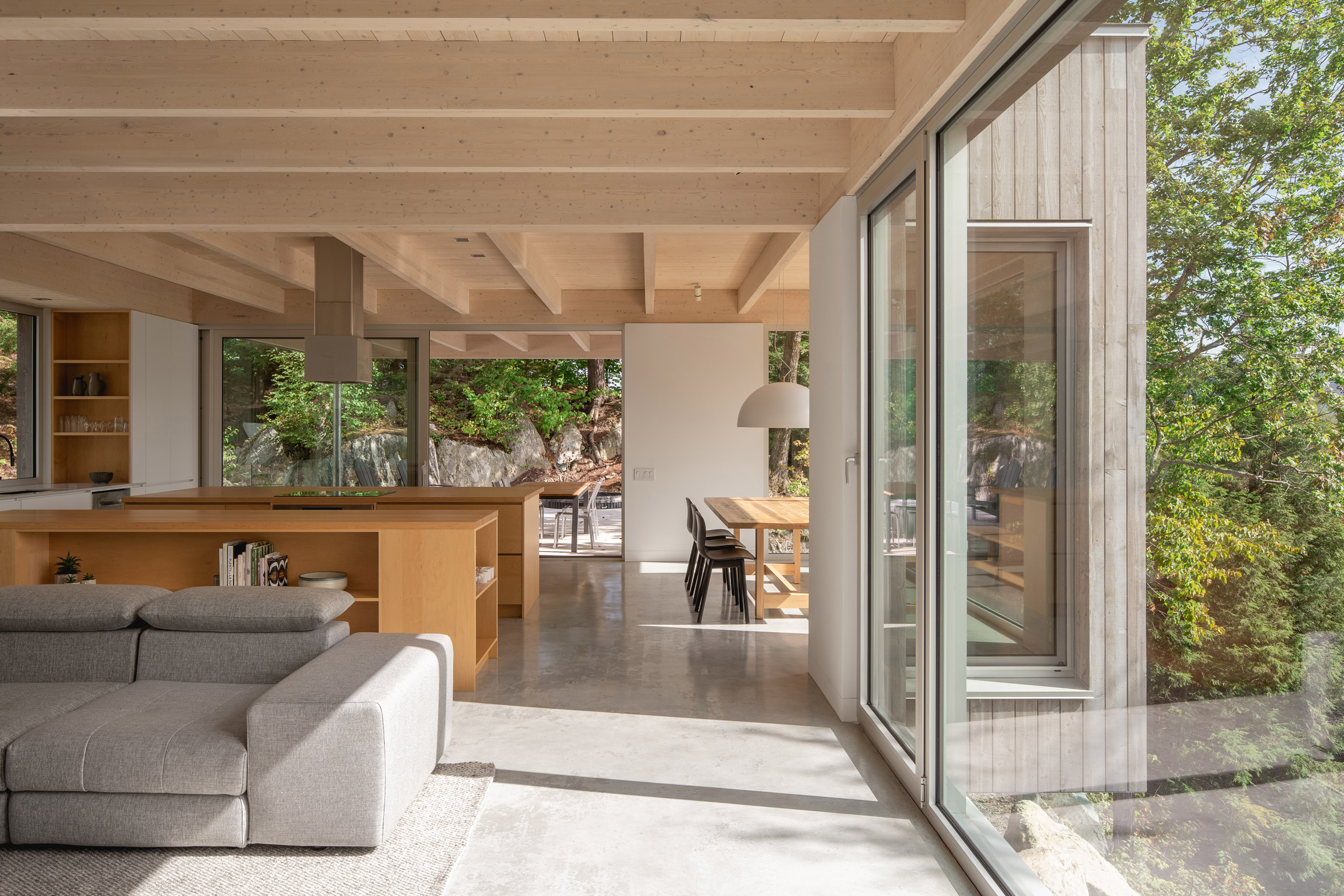 The home is made up of two levels, spanning an area of 215 square meters, or 2,300 square feet. The lower level, which takes up just a small portion of the overall footprint, is predominantly an entrance level, however, it does contain a guest room with bunk beds – room for up to 10 guests to stay. On the second level, the staircase divides the floor into two sections. On the one side is a master bedroom suite, which is embraced by the trees to the south. The other side contains a large lounge, kitchen, and dining space. Sliding glass doors enable the living space to open out to a large, partially shaded terrace. This terrace extends out to meet the ridge, making the house feel as if it's part of the surrounding landscape.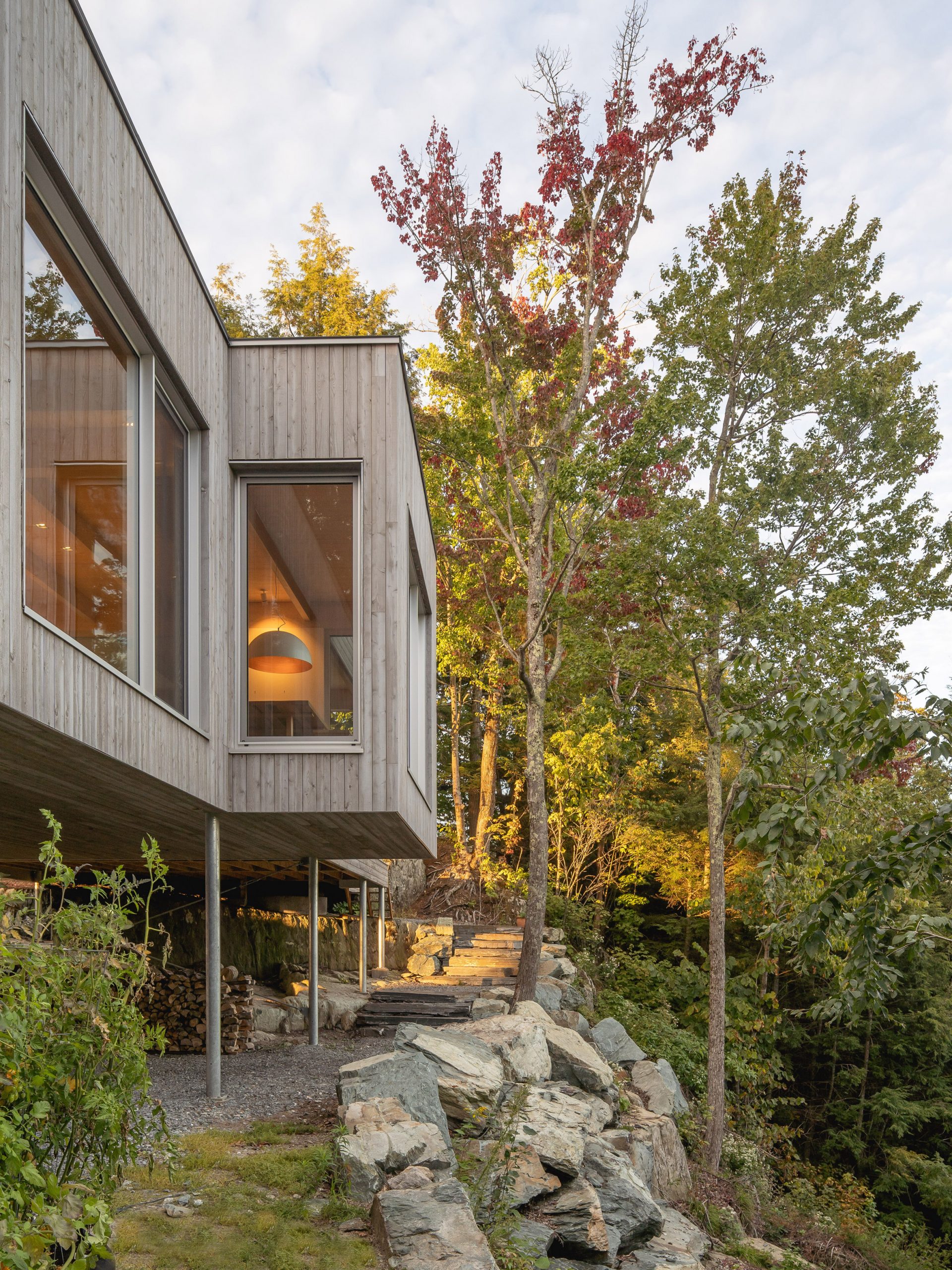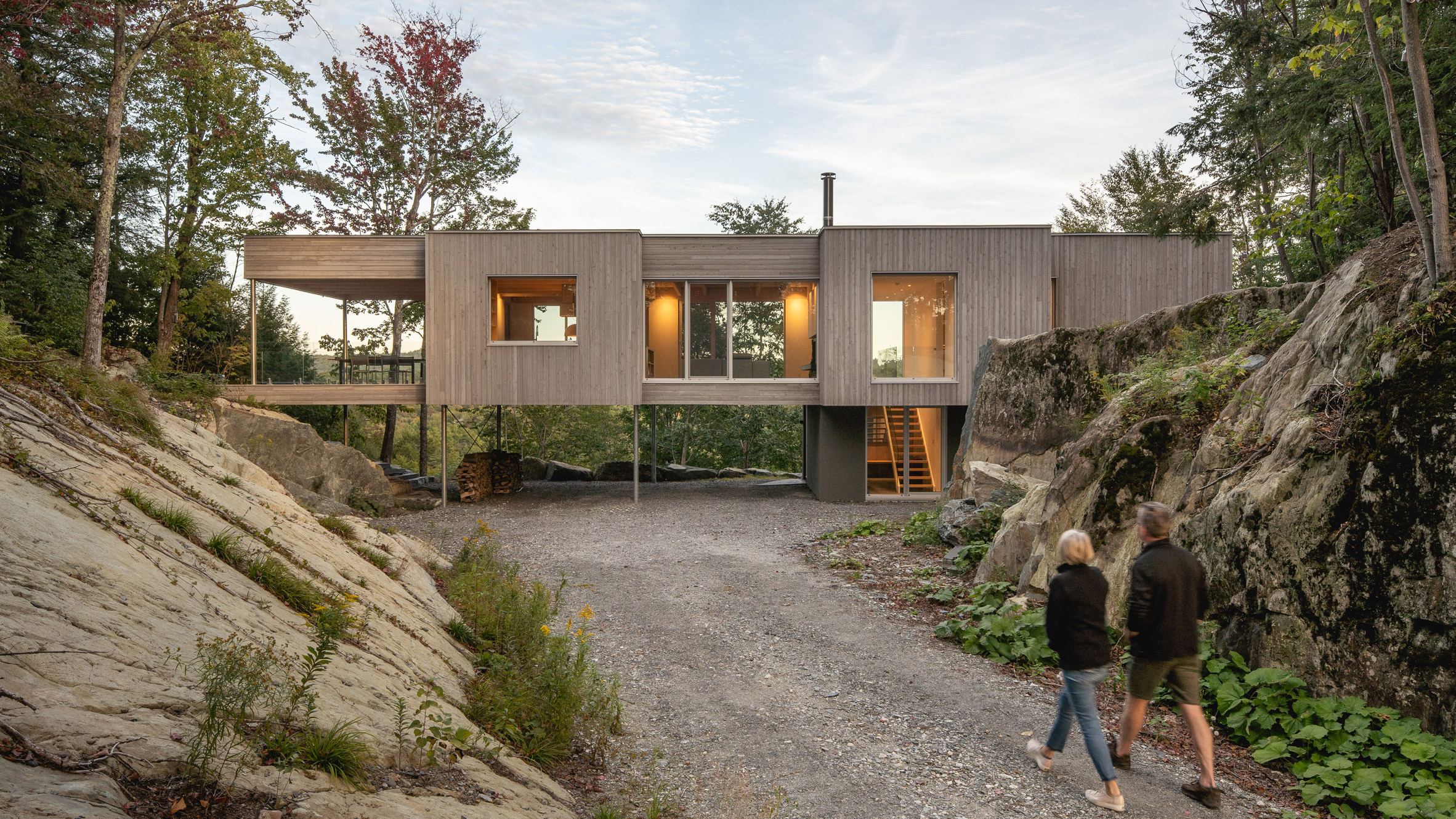 Being in a natural element also means wanting to make the home as eco-friendly as possible. To contribute to this, wood was utilized for much of the house's structure and surfaces. The roof is bolstered by a structure made from engineered wood produced from Northern Québec black spruce. The main framework and the raised elements do have concrete and steel, yet the exteriors are eastern white cedar that was pretreated to cause it to be more durable.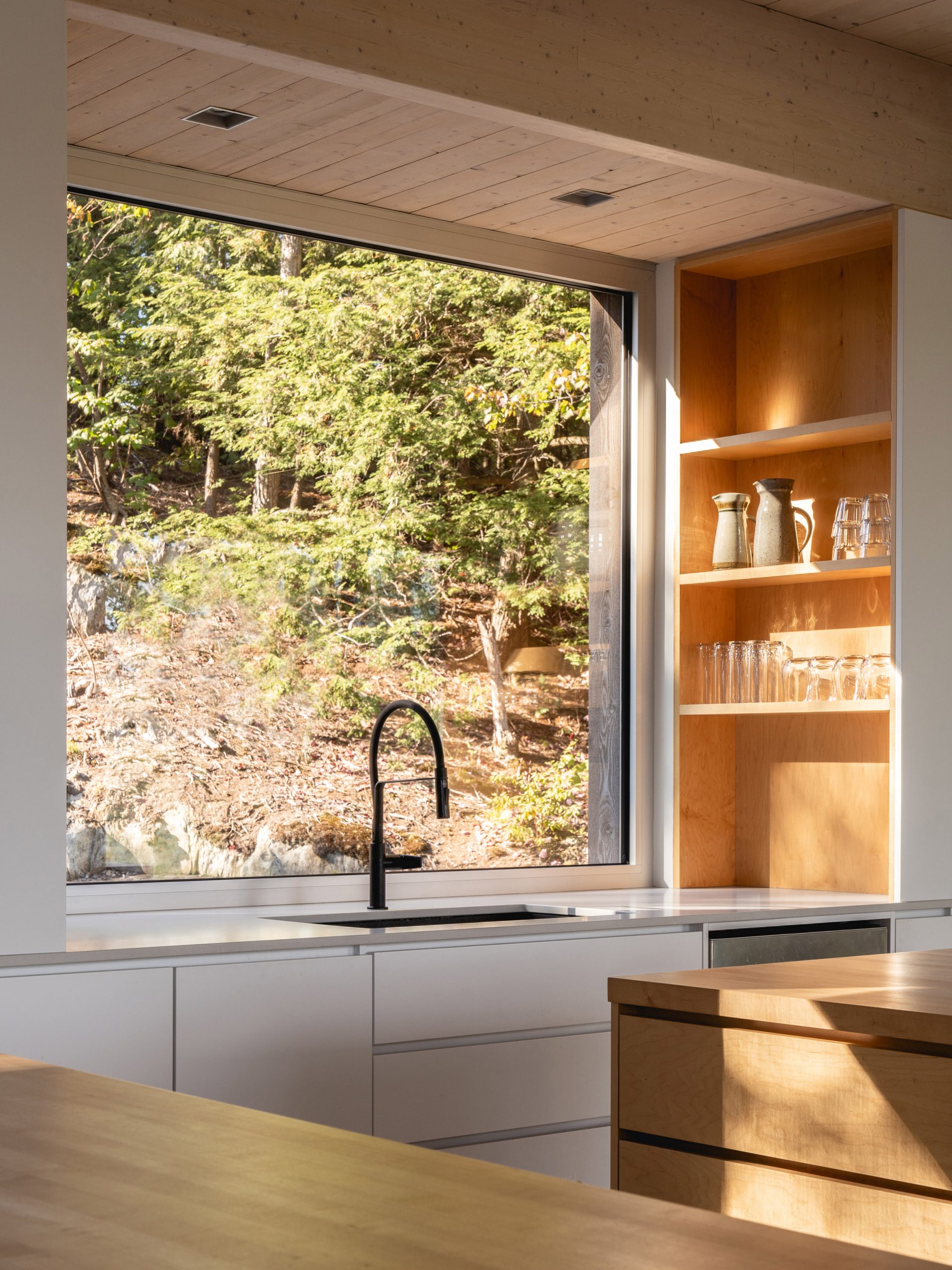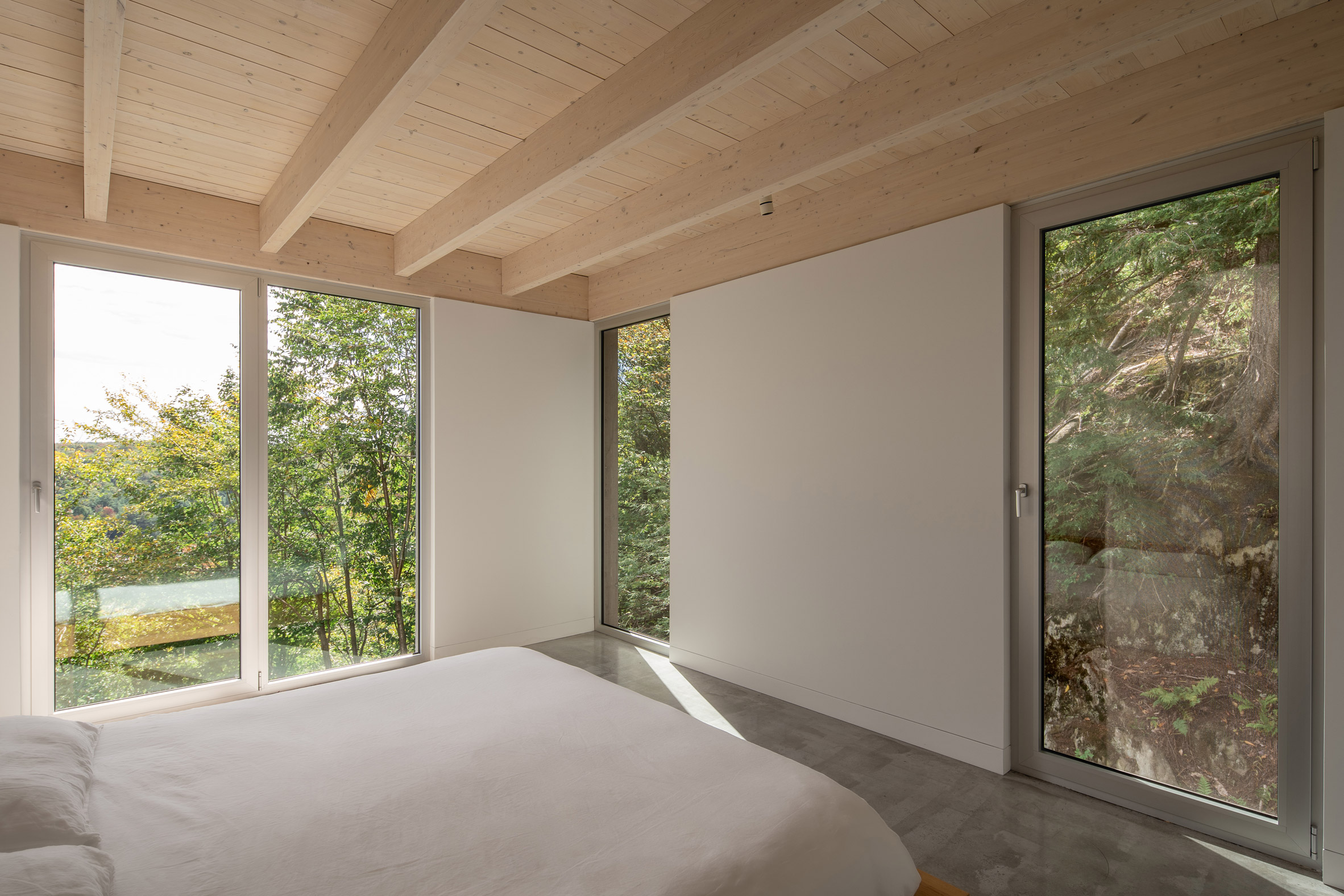 The natural motif of the design concept is upheld by including wood throughout the interior of the home. The staircase is made from solid maple, as are the kitchen islands and the vanity units in the bedrooms. Russian plywood is used for other built-in cabinetry. The log-cabin style is avoided by keeping other surfaces clean and minimal. This is seen with the use of polished concrete for the floors, while the windows are framed by natural aluminum, a recyclable material. 
With the use of the various materials for the structure, Dionne's aim to blend the home "into the landscape like a chameleon sunning itself on a rock" is expertly achieved. Forest House I is a delightful project in the Canadian woodlands.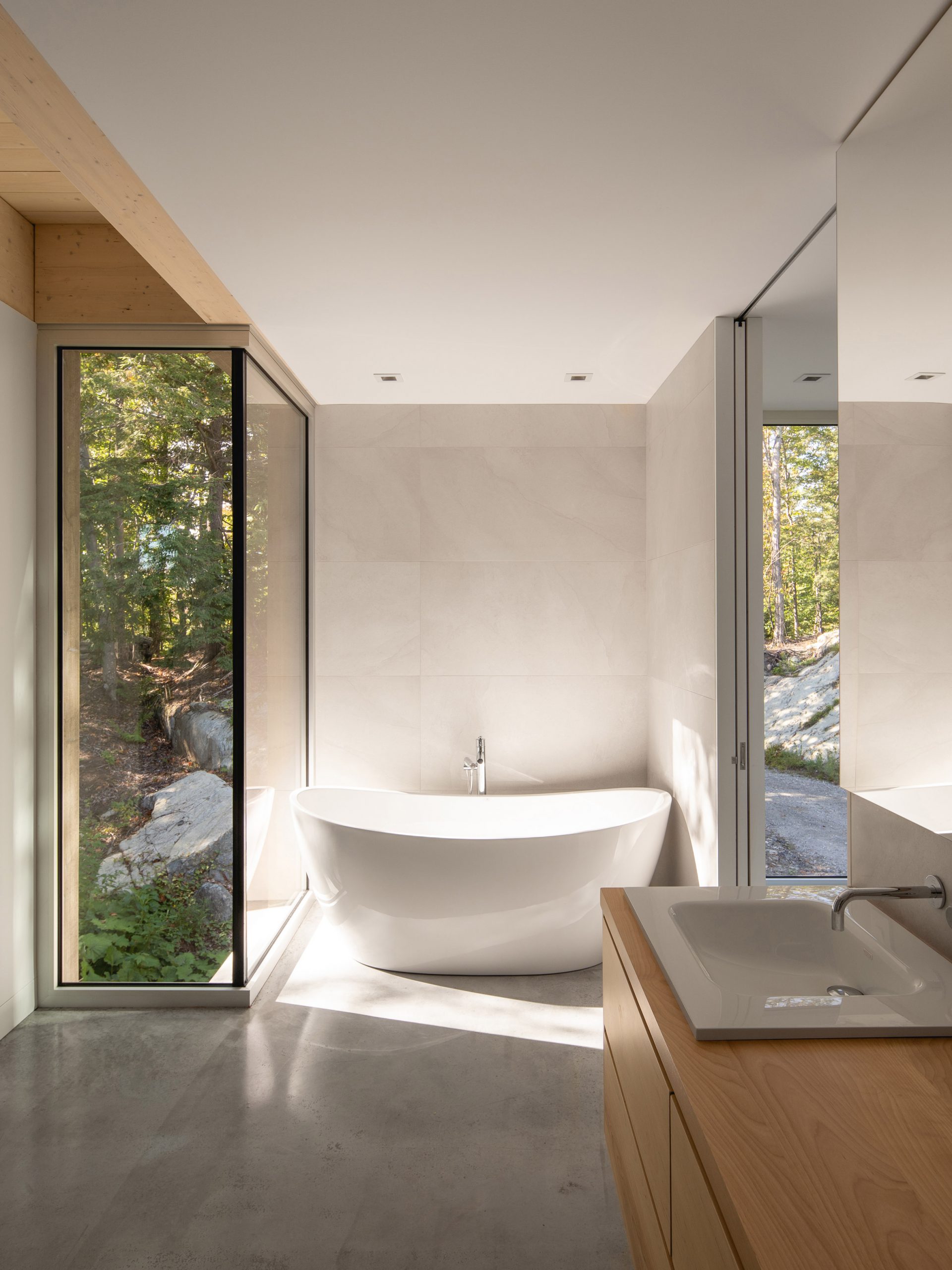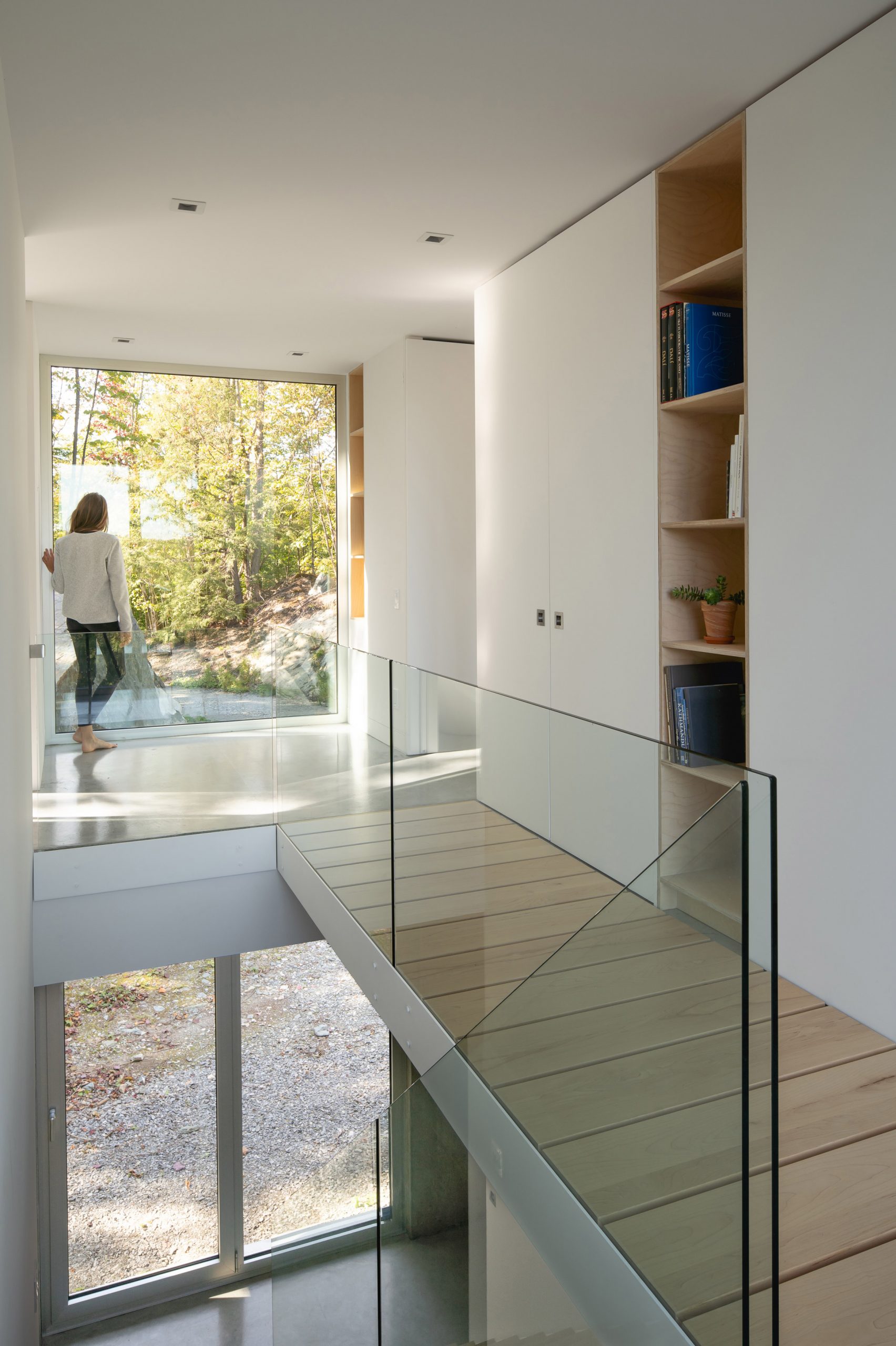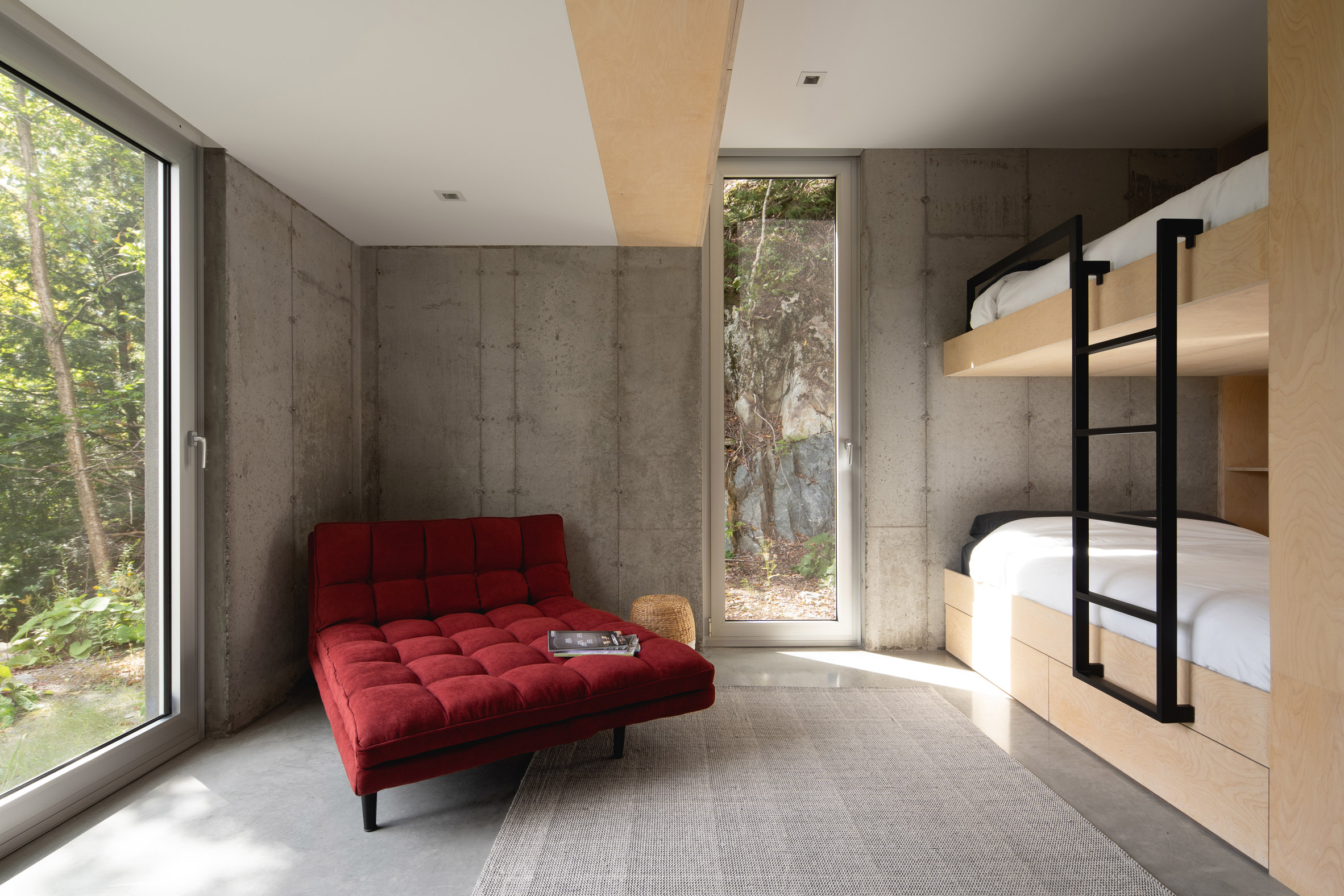 Photography is by Raphaël Thibodeau.