15 Feb

ROCK ON! Experiencing the Riviera Maya with Bret Michaels At The Hard Rock Hotel

When I was asked to cover the unveiling of the Bret Michaels suite at the Hard Rock Hotel in the Riviera Maya, the hardest choice was deciding what swimsuit to bring. Sandy beaches, an out-of-this-world resort, and an international celebrity? I was so ready to get the star treatment (rock star treatment, that is); I jumped on the plane the next day and was at the doorstep of heaven in just hours.

Greeted by a lovely staff, I quickly found myself sipping on cucumber lemonade, invigorated with a small wet towel as I waited to check in. Decked with an impressive Pinktober display in their lobby, the Hard Rock Hotel was as inviting and beautiful as I had imagined. From the Heaven lobby (Hard Rock Hotel's adults' section), I started my adventure… and so unfolds our Rock-On Weekend at the Riviera Maya in Cancun, Mexico.





MY ROOM IN HEAVEN
As I walked into my room, I found a note from the hotel, a bottle of wine, a basket of fruit and some chocolate and macaroons in the shape of a guitar. The room was a deluxe platinum sky terrace suite with a private balcony and a rooftop with a jacuzzi. Every morning I enjoyed watching the sunrise in the hammock that was on the balcony. It was calm and very relaxing, a world of difference from life in the city. I love how even the sheets of my bed had guitar shapes sewn in. Simple details that reminded me of my mission: to take an intimate tour of the new suite with Mr. Bret Michaels. To make my stay warmer, I even had a personal liquor dispenser in the room. Rock-on Riviera Maya!
AS VAN HALEN SUNG IT "A LITTLE BIT O' HEAVEN RIGHT HERE ON EARTH"




A GREAT ESCAPE
As I escaped from my room, I looked around and found this cute Van Halen quote displayed on one of the buildings adjacent to the clear water. It was great to get away and just tune into what the Hard Rock Hotel was offering me: a comfy chair next to a "palapa" on the VIP private beach, the beautiful white sand, the crystal clear water and of course the never-ending unlimited cocktails of my choice. I was particularly fond of the piña coladas and strawberry daiquiris. There was also the tranquil beauty of a natural sea cove – perfect for kayaking, snorkeling, and just plain relaxing along the warm Caribbean Sea. I sunbathed and then ended up joining the crowd by the pool to do some aquatic aerobics.
It's a shame Bret wasn't there yet to join me…
BRET MICHAELS PENTHOUSE TOUR
It was time to move on to the main attraction, Mr. Bret Michaels and his amazing suite. We got the exclusive tour of the iconic Bret Michaels inspired Penthouse Suite, and the best part, with Bret Michaels in it. He was there to humor us and to give us a tour around what he called "his home". This is the first-ever artist branded Rock Star Suite of their collection, and one of the largest suites in the world with over 9,000 square feet. Bret Michaels personally worked hand in hand with the Hard Rock Design Studio and Tandem Design Team, and was heavily involved in the design of the opulent space, which is fun yet functional. Frank Maduro, Vice President of Marketing for the all-inclusive collection added: "We wanted to partner up with someone who not only is iconic, but that will be hands on. Every single detail was considered. It is not only a name on the wall but truly someone that was involved."
The rock star branded suite, which was unveiled in an exclusive press conference, has 2 King bedrooms with a private terrace, 2 full baths, 2 half baths, a living room, dining room, a complete kitchen, a premium bar, private screening room, raised dance floor, inspirational quotes, Camaro-converted billiard table, a cowboy hat display, and bandana-influenced ceiling décor to showcase the famed rocker's individuality.
We could appreciate all the authentic memorabilia and personal items that belonged to Bret Michaels, including a large display case showcasing the rock star's original "Hollywood Taxi" motorcycle as well as the "Every Rose" guitar. Bret shared that his favorite element in the suite was the decked out bike. He also was very excited about his photo booth and encouraged me to take a picture in it!
Bret Michaels, who is a lifelong Type 1 diabetic, is motivated by health and fitness, which explains why there is a state of the art fitness center within the suite. The Bret Michaels Rock Star Suite is topped off with an over the top DJ booth and accompanying sound system located on the suite rooftop to entertain guests. Other great and entertaining perks include: Blue Ray player, Xbox 360 Kinect, an 80" flat screen TV, selection of in-room guitars from PICKS, aromatherapy, beach bag and hangover kit (of course). As if that weren't enough, there is exclusive 24-hour room service and Mini Bar in each room, Nightly turndown service, private check-in, early check-in, and late checkout. Oh, and the rooftop of the suite is a full terrace area with hot tub, fire pit and plenty of places to lounge under the Mexican sun. Truly a Rock Star experience.
THE SUITE FEATURES OVER 9,000 SQUARE FEET CHOCKFULL OF HARD ROCK MEMORABILIA.
Michaels shared, "Hard Rock Hotel is making sure guests have a great time, while at the same time trying to make a difference", and they surely were, through their participation in the Pinktober breast cancer awareness fundraiser initiative, hence the pink bed sheets. True to form, Bret Michaels finished off the inauguration with a traditional guitar smash. He then signed the guitar pieces and placed them in a case in the living room area.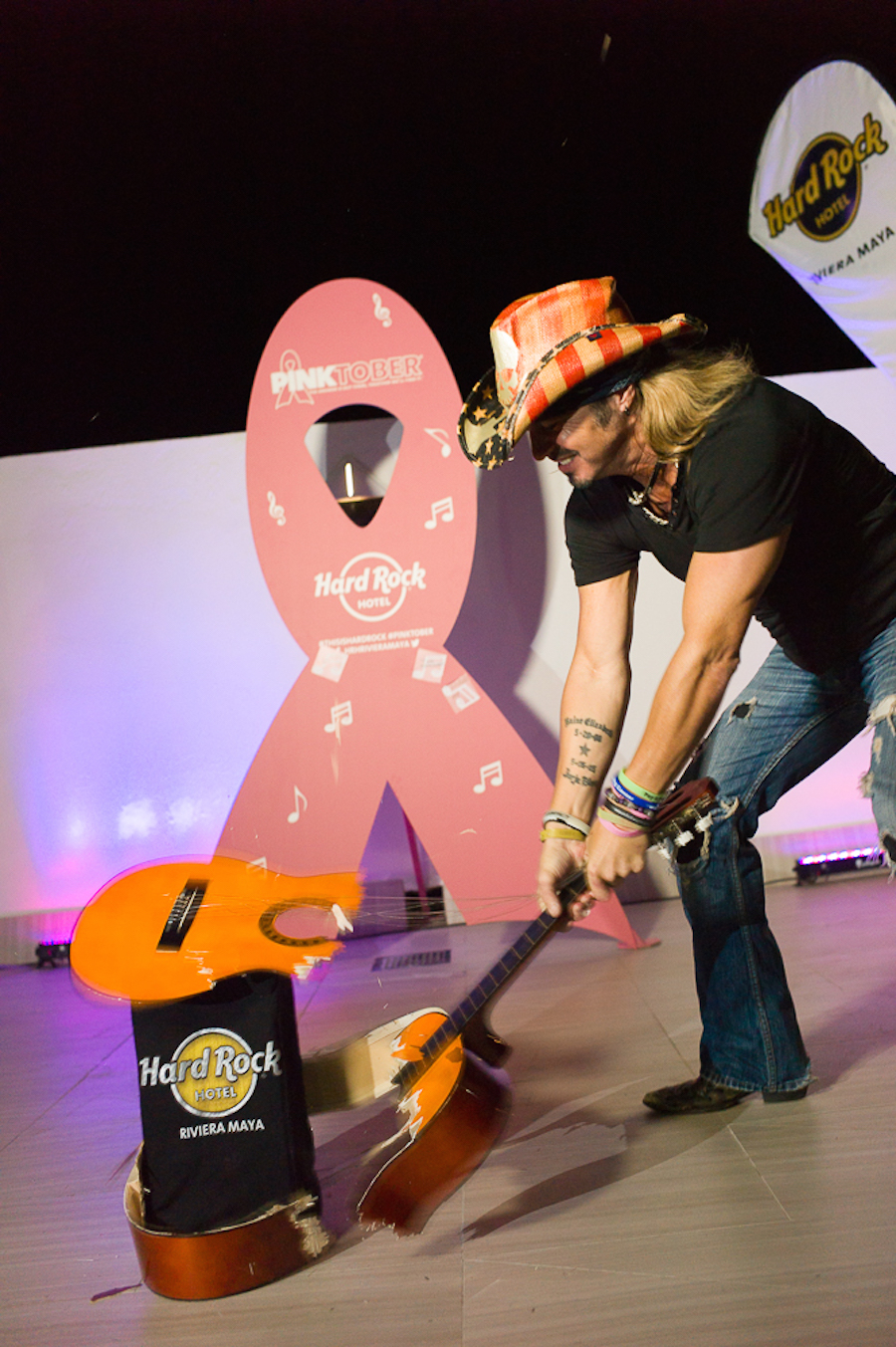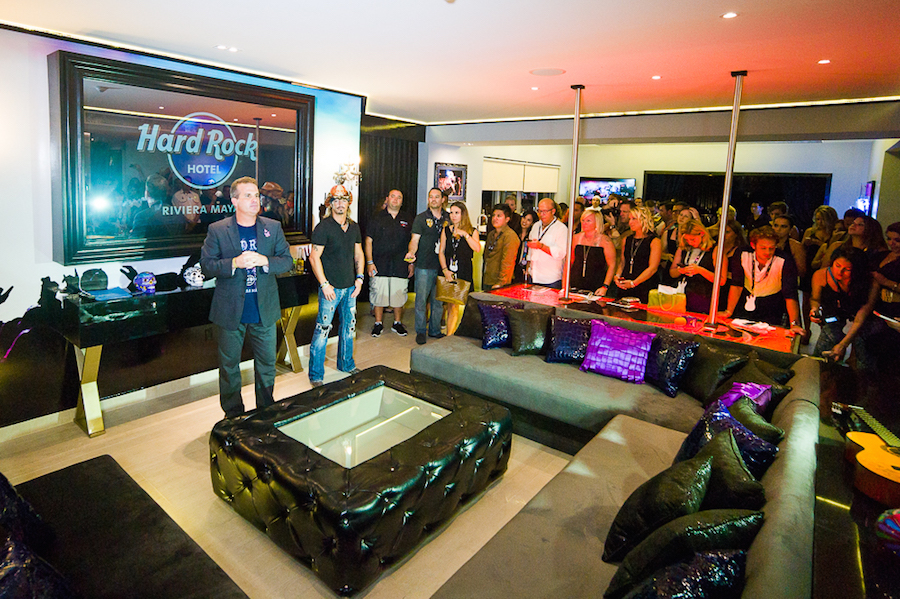 UNPLUGGED PERFORMANCE
After the penthouse tour, we were all ready to rock on with Bret Michaels. We headed to Heaven lounge. He played an exclusive unplugged, acoustic performance to celebrate the Rock Star Suite's official debut, including one of his hits "Every Rose Has Its Thorn". All the girls were officially swooning. The crowd went crazy! He also sang his version of "Sweet Home Alabama" with his highly contagious energy. However, it has to be said that Bret is such a humble, down-to-earth guy, stopping to chat with the audience, taking pictures and signing autographs.
RELAXATION
As a last treat to myself, the final day in paradise was all about relaxation and escaping to my total rockstar zen. I revisited all my adventures sitting by the water, bathing in the sun. My trip could not be over without spending some time at my personal paradise, Rock Spa. It's the largest spa in the Caribbean, with 75 treatment rooms. I enjoyed a hydrotherapy session, which featured steam rooms, hydrotherapy current pools, lavish surroundings and even a personal spa butler to bring you straight to heaven. The highlight of this spa indulgence was experiencing the rhythm and motion rock spa massage – synchronicity. The massage therapist utilized greatest hits from yesterday and today for this treatment, which taps into memories to create an experiential journey, synchronized with a performance of techniques, pressure, and rhythm. The massage is infused with a choice of natural organic essential oils to reduce stress, ease muscle tension, and detoxify. Each treatment connects the healing power of music with the artistry of massage therapy.
A testament to Hard Rock's standing as a global institution of rock culture, we learned that Hard Rock was more than a vacation spot, but truly a piece of heaven, a lifestyle that anyone could get used to…This is Hard Rock!