05 May

Beachside Flip With Jonathan Adler

The Eau Palm Beach Resort & Spa celebrates the next phase of its newly fashioned Palm Beach luxury philosophy by partnering with Jonathan Adler to redefine the guest experience with rooms full of elegant surprises, including his signature accents to add style, craft, and joy to the lives of resort guests. Offering a new style of effortless living on seven chic acres of oceanfront and lush tropical gardens, Eau Palm Beach Resort & Spa offers an experience that is at once exciting and sensual. The resort is refined and elegant and thoughtfully appointed for leisure guests, families and business travelers alike.

The complete redesign of the 309 guest rooms, suites and corridors will be completed in time for the winter 2015 season. "As Simon Lewis, Eau Palm Beach's owner, and I created and grew the Eau Palm Beach 'miles away from mainstream' experience, we knew reaching out to Jonathan Adler was the perfect and most natural next step to create designs that are reminiscent of classic Palm Beach with touches that make people happy," said Ayelet Rahav, Creative Director. "More than ever, today's vacationers are multi-generational families with incredibly diverse backgrounds and life experiences—and we wanted our rooms to give them a joyful retreat where they can create their own new memories together."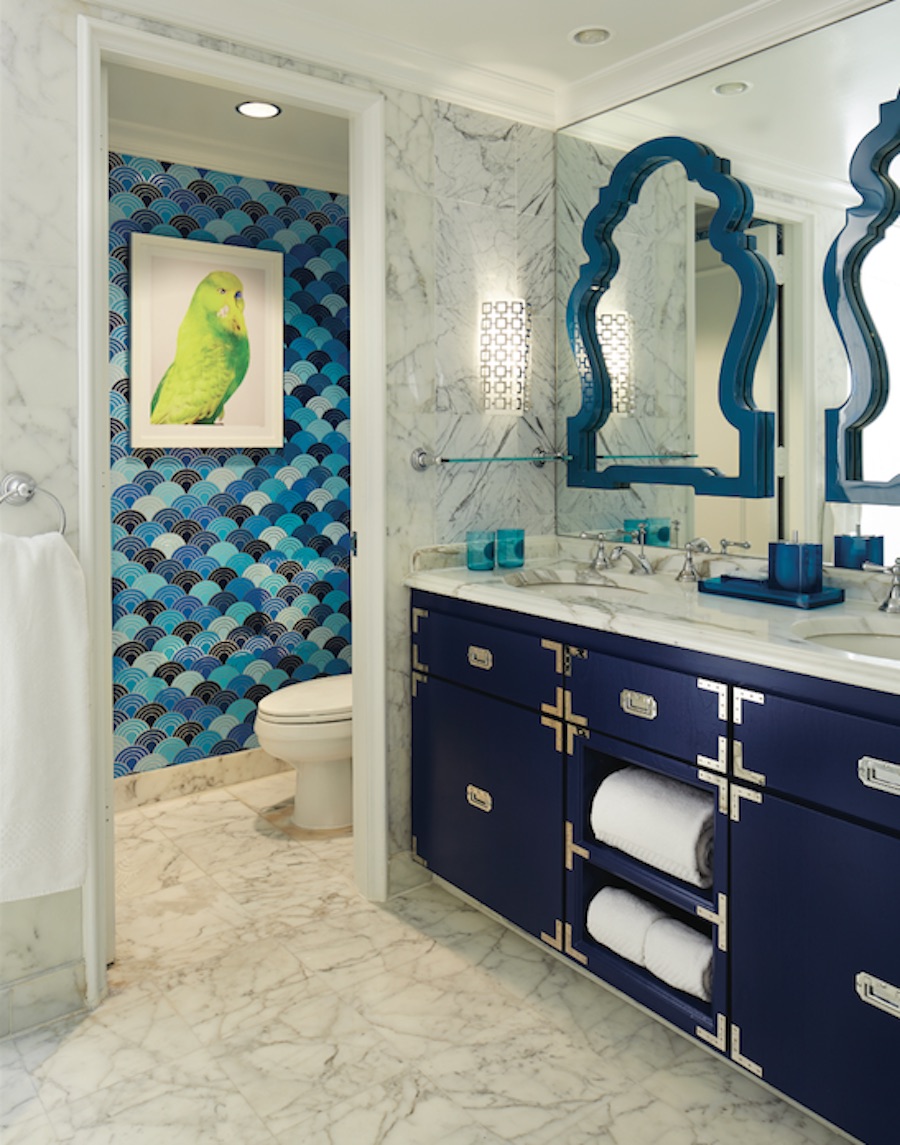 Each room channels a "Capri meets Santorini meets Palm Beach" vibe. The rooms feature new exclusive furnishings designed by Adler, one-of-a kind art commissions by notable artists Donald "Drawbertson" Robertson, Leila Jeffries and Jenna Snyder-Phillips, classic photographs by Slim Aarons and design details that incorporate the classic Chinoiserie-inspired décor and
color combinations of vintage Palm Beach.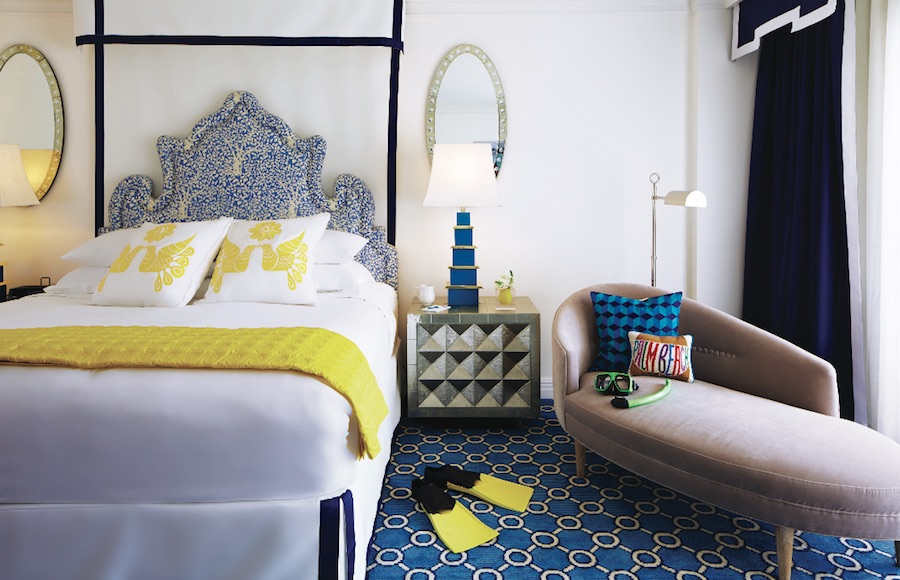 "In creating this room experience, I wanted the Eau Palm Beach guest to feel as if they truly 'arrived' upon walking into their room. Palm Beach has an incredible combination of glamour, fantasy and luxury and the new rooms really capture that vibe," said Jonathan Adler. "By designing guest rooms with a fresh, nautical color palette and pops of color and unexpected surprises, I've created a luxurious and dreamy experience for everyone to enjoy a fancy vacation."
By designing guest rooms with a fresh, nautical color palette and pops of color and unexpected surprises, I've created a luxurious and dreamy experience for everyone to enjoy a fancy vacation." – Jonathan Adler
The color palette is inspired by the bright blues of Capri, the white of Santorini rooftops and the classic nautical Palm Beach vibe, with crisp blue valences over balcony doors and bright white and chrome accents, while a pop of yellow brings the sunshine in. The design and fashion worlds collide with a nod to the playfulness of Palm Beach. Furnishings have been designed to transition from business meetings to impromptu cocktail soirees with ease. Round tables facilitate everything from board meetings to family brunches, all with the style of the sea in mind.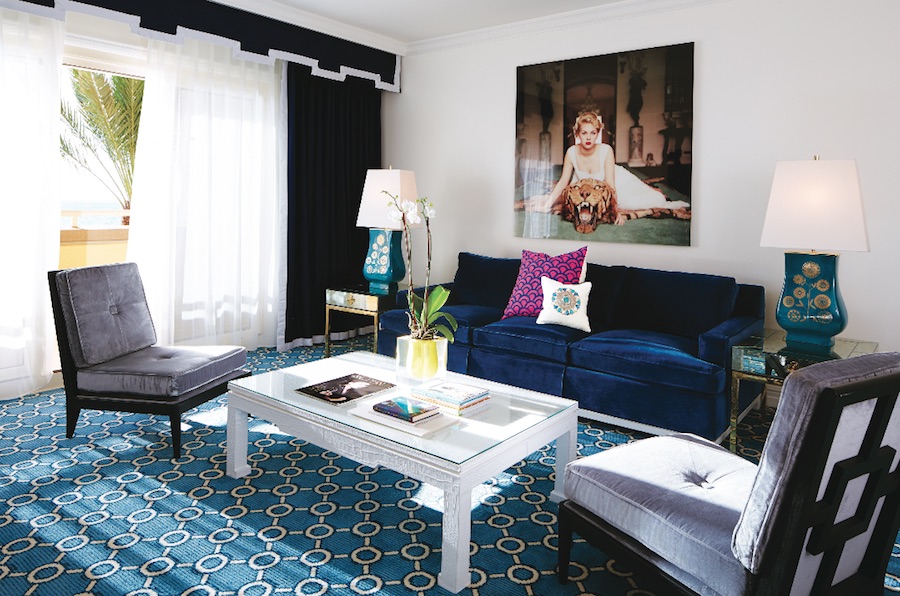 Meanwhile, all of the resort's 309 rooms feature ocean views, and the new designs incorporate irreverence into the balcony and cabana spaces that adjoin each room. Eau Palm Beach Resort & Spa is located on a secluded private beach on seven acres of the Atlantic coast with breathtaking ocean views and lush tropical gardens, the AAA Five-Diamond resort was recently recognized as one of Florida's top resorts in the 2014 Condé Nast Traveler Readers' Choice Awards.
Lastly, unique elements are found throughout, such as hanging chairs with a lacquered bamboo look, as well as an understatedly groovy wrought iron "peace" and "love" dining set. Desks are bedecked with tassels (the "earrings of the home," per Jonathan Adler) and bathrooms include hidden-jewel box nooks with bright, bold pops of color. No moment in the rooms is without a touch that makes guests chuckle and relax.