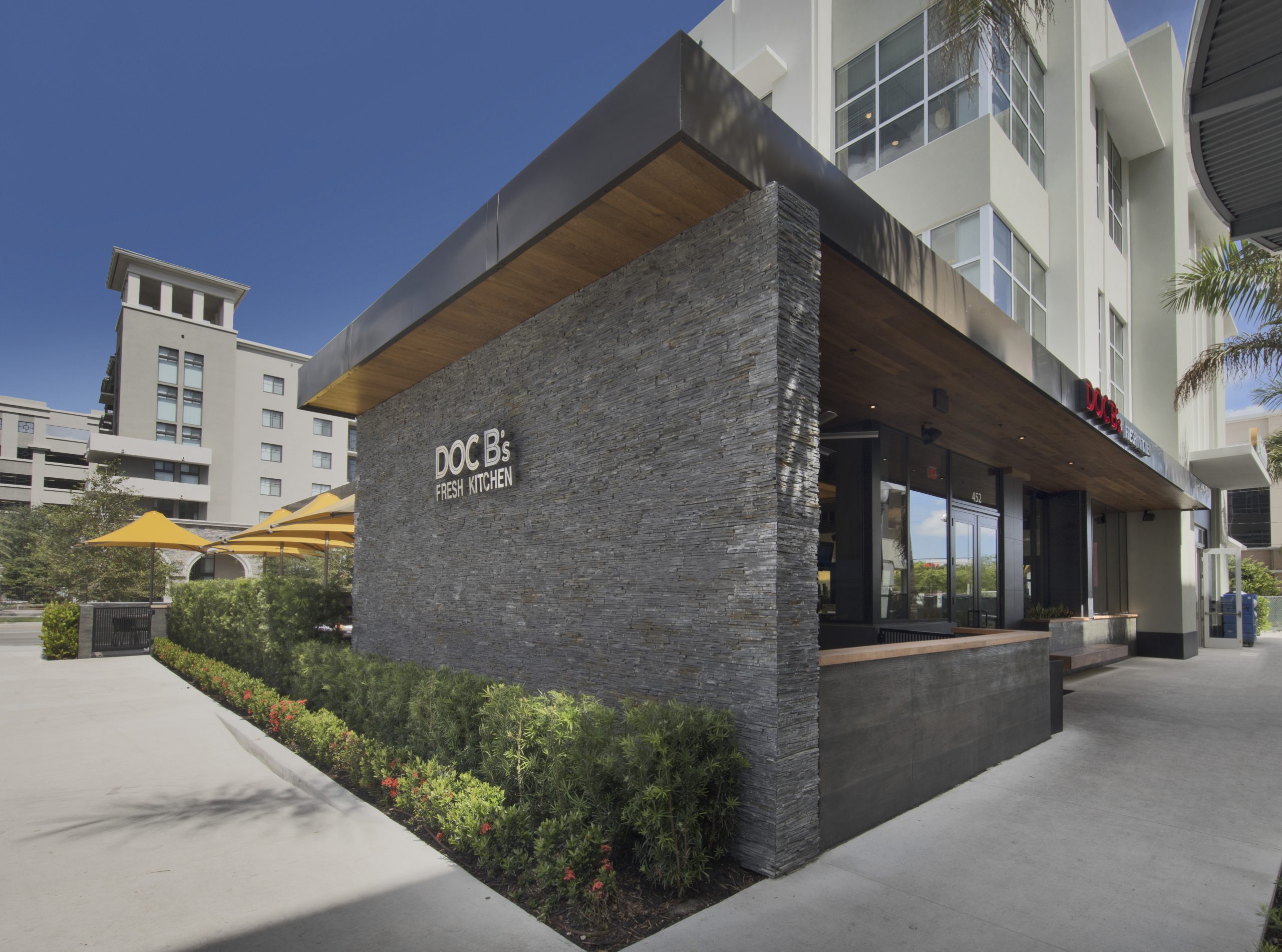 30 Sep

A Dose of Style for Doc B's

The Doc B's Fresh Kitchen in Fort Lauderdale Project by DMCA Architecture marries the company's "focus on fresh, house-made and mindfully sourced dishes", with an idea of timelessness, a universal quality that transcends moment or place. The material's palette evokes a graceful mid-century nostalgia and its associations of home, a sense of belonging and community.

White Carrara Marble finishes enclose the space in the three different spatial qualities, contrasting with the warmth of the Walnut finishes that organize the space horizontally in the seating elements and the ceiling. The ceiling, a continuous walnut surface inside-out, draws from the trellises on the southern beaches of Florida, becomes slats once inside to start breaking the directionality closer to the bar, most dynamic area of the project. This apparent ambiguity allows to improve the acoustical values of the space and to house the 5' x 7'light drums that cast warm lights at night, accentuating the bar from the outside.
Driven by the ceiling's design, the indoor space is organized in two main areas that seats 150 people: the dining area framed by an open kitchen and the bar area designed around the idea of communal experiences. The entire indoor space reads cohesively when throughout the three-sided glass windows it becomes the outdoor terrace with seats for up to 80 people.

The result is a sophisticated atmosphere perfectly paired with the culinary experience of Doc B's Fresh Kitchen. The project was completed during the Summer of 2017 and can be found at 452 N Federal Highway in Fort Lauderdale, Florida. All the other Doc B's Fresh Kitchen restaurants have also been designed by DMAC Architecture, including those in Chicago, IL, DMAC's home city. The architect is currently working on five more locations for this brand in Florida and Texas.
Design by DMAC Architecture.
Photography by Miami in Focus.